After literally years, the Met Gala is finally back, slightly later than anybody hoped for, but none the worse for wear.
And on behalf of a world positively hungry for the kind of high-fashion cray the event provides, we thank the stars and designers for this bounty of style. We went into the night assuming it would be a low-key affair, what with the whole pandemic thing and all, but we are utterly thrilled to report that we were totally, one hundred percent wrong in our prediction. The stars turned it out—some more effectively than others.
Let's run through the most notable looks of the night, shall we?
Timothee Chalamet in Haider Ackermann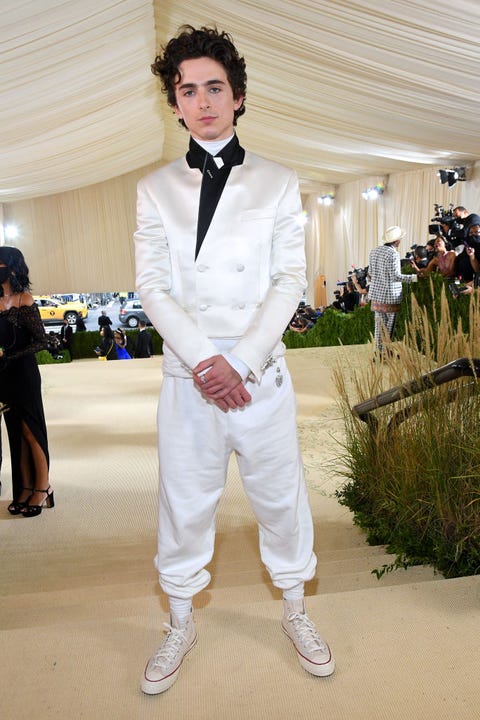 KEVIN MAZUR/MG21
GETTY IMAGES
The co-chair and Dune star came in his usual style, which is somewhere between futuristic boy-prince and video game character. Personally, we love this look, but as much as the Chucks are an American classic, we're not convinced they make the best footwear choice for the suit, even with the sweatpants. We might have liked them more in black.
Kim Kardashian in Balenciaga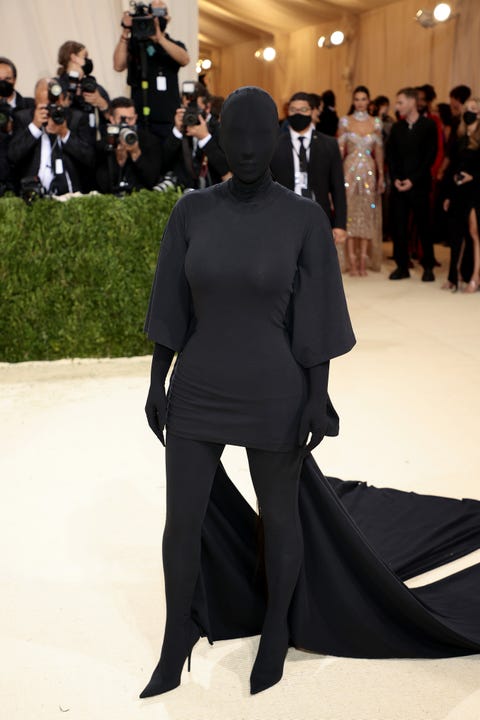 DIMITRIOS KAMBOURIS
GETTY IMAGES
Well, she certainly won't have to worry about hand sanitizer or mask-wearing all night. We'll call this the ultimate in Covid Couture. It's weird, but we respect it.
Lupita Nyong'o in Versace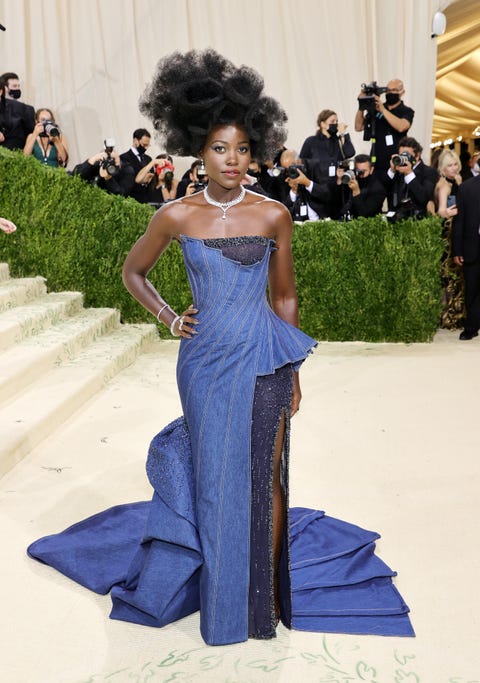 It has been far too long since Lupita Nyong'o has graced the world's red carpet and to our utter delight, she came back to this one in gorgeously perfect style. The denim gown is about as American as style gets and the glorious swirl of hair takes the whole look somewhere new and interesting.
Pete Davidson in Thom Browne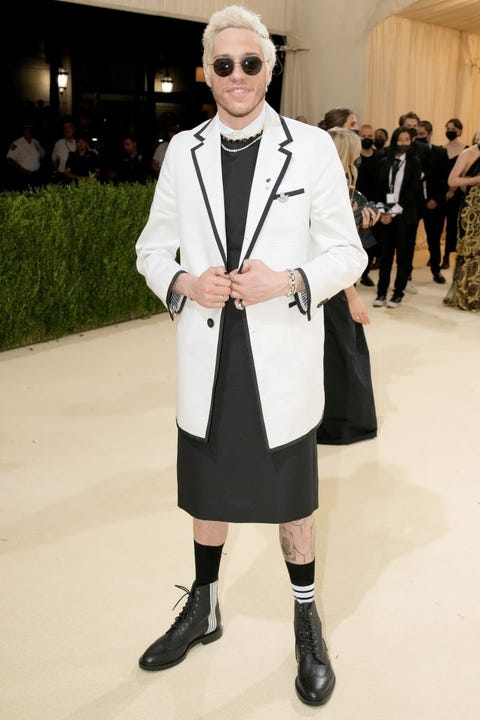 The Saturday Night Live star may not have been our prediction for one of the dress-wearing men of the night, but there's something a little sinister about this look—like a cross between a priest and a surgeon—that makes it feel like the height of Horror Chic. It suits him really well.
Amanda Gorman in Vera Wang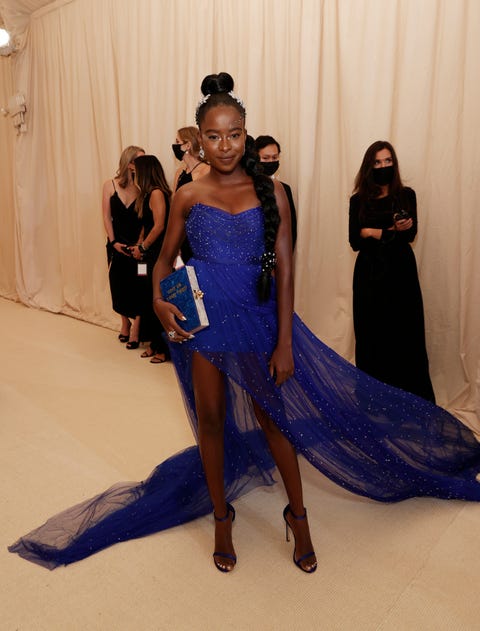 ARTURO HOLMES/MG21
GETTY IMAGES
The poet, activist and Met Gala co-chair took a more restrained approach to her red carpet style. This floaty, romantic Vera Wang gown was inspired by the Statue of Liberty and even included a purse with part of the lady's famous quote, "Give us your tired." Very apt for a woman of words and symbolism.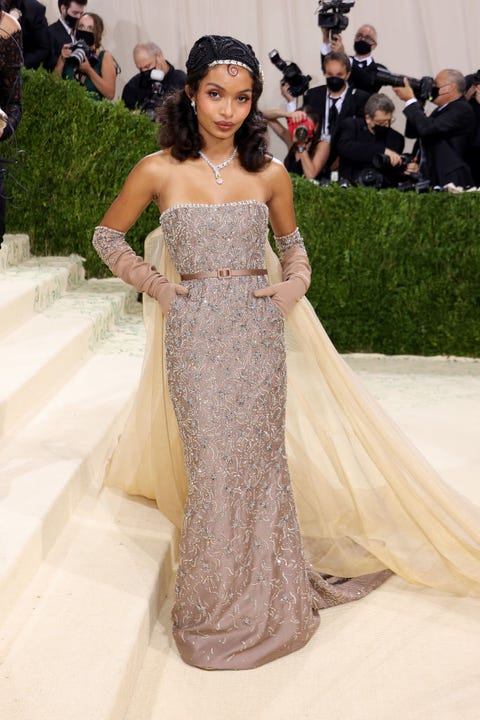 The Grown-ish star looked like a Disney Princess on her wedding day in a look paying homage to Josephine Baker and how could we possibly object to that?
Tessa Thompson in Iris Van Herpen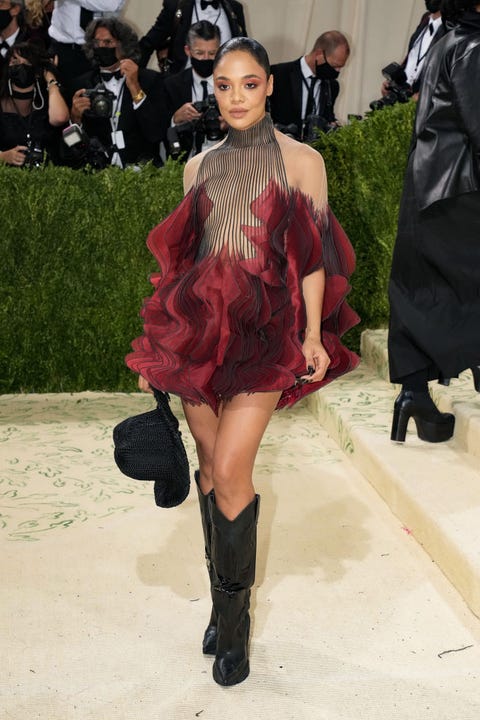 The star of the upcoming Thor: Love and Thunder looked like a delicate flower in kickass boots. Somehow, that seems totally Tessa Thompson to us.
Kim Petras in Collina Strada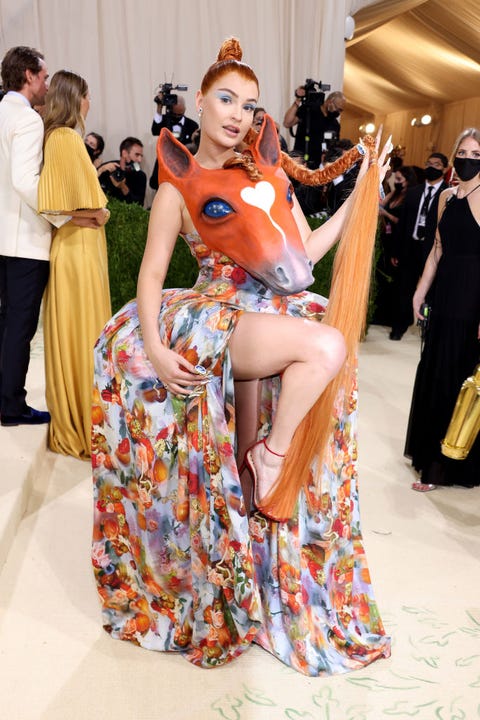 Taking the "horse girl" meme literally, the "Do Me Like That" singer made her claim for the wackiest look of the night by sporting a 3-D horse head as a bodice. She seemed to be having fun with it and the floral textile is actually very pretty, but as much as we love our crazy Met Gala fashion, we're going to have to give this one (forgive us) a "neigh."
MJ Rodriguez in Thom Browne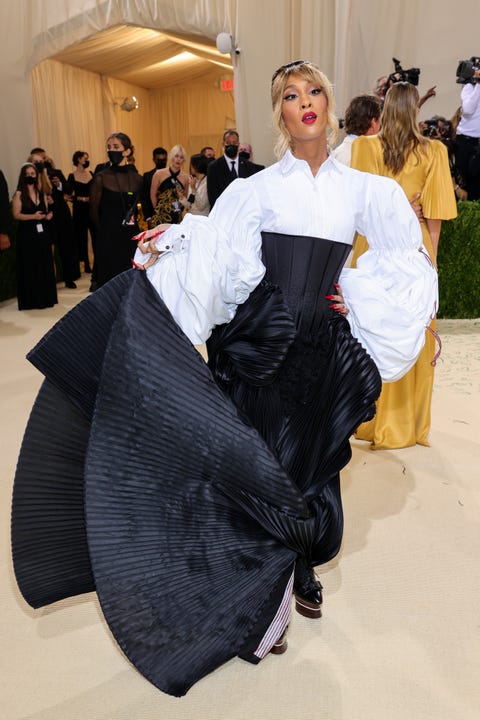 The Pose star and Emmy nominee looked stunningly dramatic in a Victorian-inspired gown from Thom Brown that somehow managed the trick of looking fiercely sexy and up-to-the-second modern.
Kristen Stewart in Chanel Couture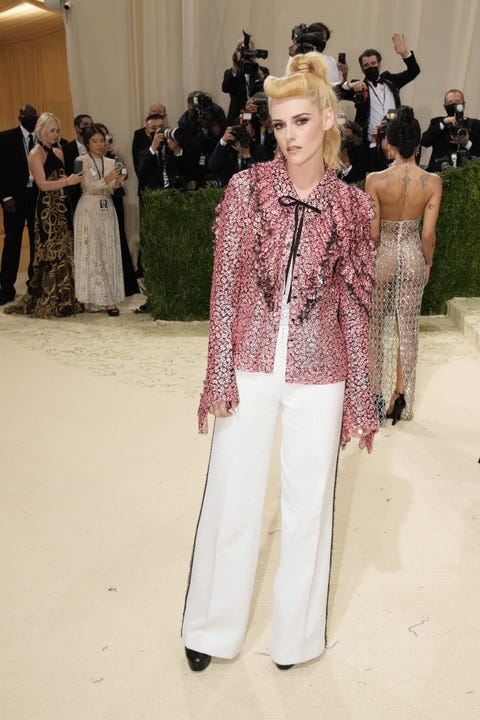 The Spencer star was one of the latest arrivals on the red carpet, but she was worth waiting for. In a Chanel ensemble that showcased her particular knack for combining leisure wear with couture and making it look effortless, she was almost unrecognizable in her curled blonde bangs and high pony.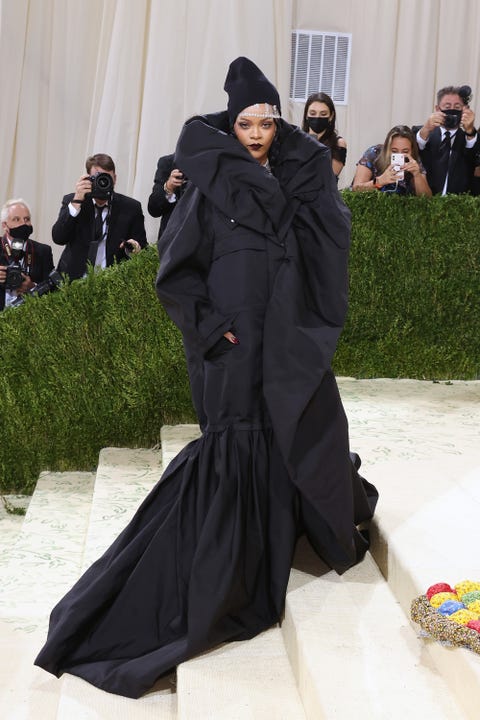 The world's most fabulous billionaire was the absolute last to arrive, showing up swaddled in a massive Balenciaga cloak, dripping diamonds, and topped off with a knit beanie. The ultimate in hi-lo style.
Olivia Rodrigo in Saint Laurent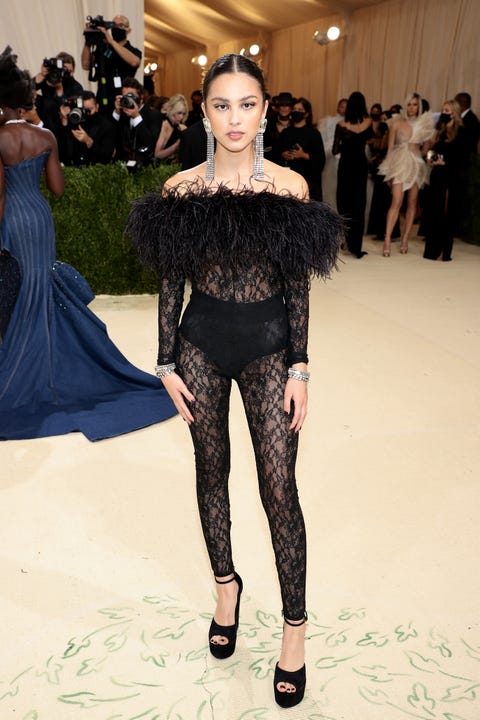 DIMITRIOS KAMBOURIS
GETTY IMAGES
The "Brutal" singer stepped out in a black lace catsuit that seemed a little more appropriate for the VMAs, but still managed to deliver that high-fashion feeling the Met Gala asks for. Besides, if there was one major trend of the night, it was definitely see-through and tight-fitting. She told interviewers that her lacy look was a nod to American punk music.
--
COSMOPOLITAN