Aprapransa is a mouth-watering Ghanaian delicacy usually served by the Akan tribe.
Aprapransa is not a food that is commonly found on the streets of Ghana or is prepared every day in the house. It is usually served on special occasions such as marriage ceremonies, naming ceremonies, birthday celebrations among others.
It is basically made from roasted corn flour, cooked beans together with other ingredients.
 Ingredients
-roasted cornflour

-Â palm oil

- tomatoes

-onion

-smoked fish

-Fermented salted fish (momoni as locally called)

- beans

-Pepper and salt to taste

-Crabs
Method
-Cut and wash the meat or fish to be used

-Season with your choice of seasons, add blended onions, garlic, ginger if preferred

-Add salt to taste

-Allow meat or fish to cook for 5-10 min

-Blend tomatoes and pepper and (more onions for flavour)

-Add to the cooked meat

-Dilute palm nut extract with warm water and bring to a boil.

-Strain the palm nut extract to meat.

-Add crab after about 5 mins.

-Allow soup to boil/ cook for 15- 25min

-Normally ready when the palm oil separates to the top of the soup.
Palm nut soup ready, proceed to Apraprnasa preparation

-Scoop about 8 ladles into a separate saucepan

-Add about 9-10 tablespoonfuls of the cornmeal gradually and one spoonful at a time

-stirring the mixture at the same time continuously till desired pasty texture is achieved and all lumps are completely dissolved.

-Add one laddleful of soup and allow to cook for a couple of minutes.

-Serve into your bowl, garnish with the crab on the top.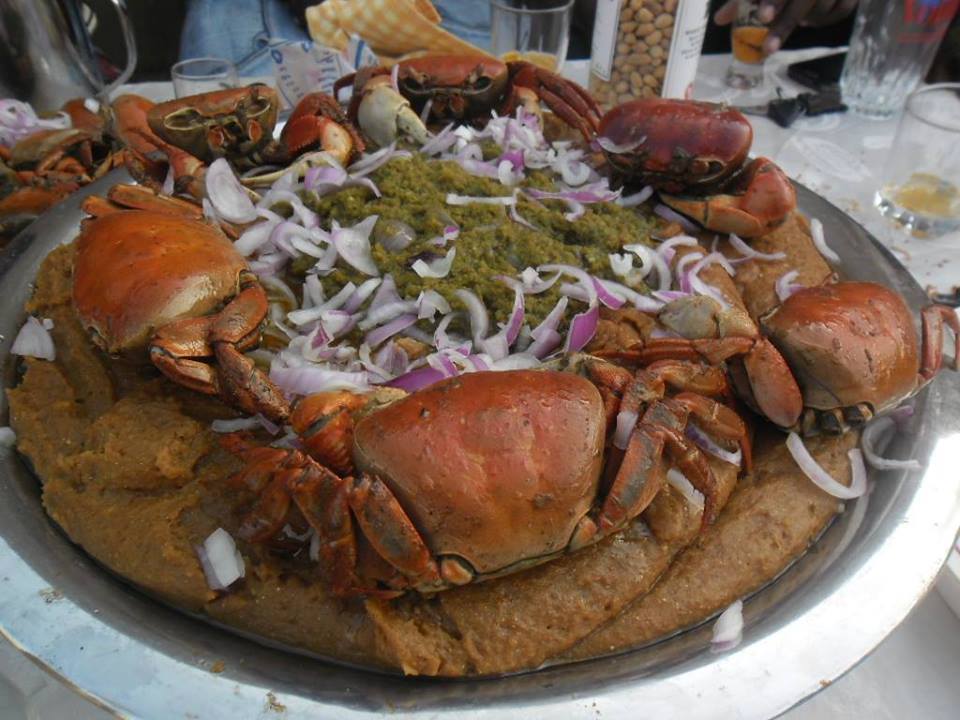 Mouth-watering Aprapransa garnished with crabs
 READ ALSO :