A Nigerian lady has taken to social media insisting that she wants to be a housewife, stay home, watch TV and send her husband nude photos whiles he is at work. 
It all began with a Twitter user informing men that women are expensive and, rather than call them gold diggers, men should find the woman they can maintain.
Another female Twitter user, with the handle @Yettyclassy, replied saying it is wrong to feel entitled to a man's money, especially if you didn't work for it with him.
But another woman stepped in to say a man must spend on the woman he loves. @She LovesArtemis said, "men must provide for women. Once you say you love me, you already owe me money."
This led to a back and forth between @She LovesArtemis and @Yettyclassy.
But the Twitter outrage began after @She LovesArtemis tweeted that she intends to be a housewife and just enjoy her husband's money.
She wrote: "I want to be a housewife. Stay home, make meals, keep the house beautiful, watch TV, send my husband nudes while he's at work and keep having beautiful babies while enjoying my husband's money." 
READ ALSO:
Take care of my daughter but I still want your 'banana' - Mother to son in-law
3 students die during group sex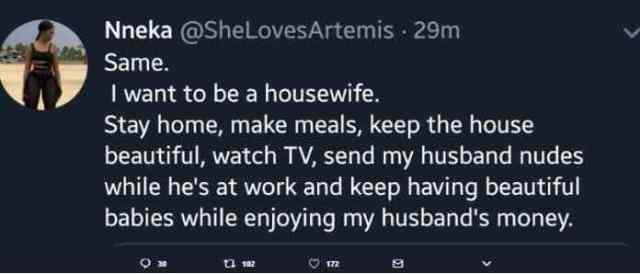 Latest Gossip on Prime News Ghana/GhanaNews