The government has decided not to implement the controversial mandatory towing levy which has received so much criticism from the public.
A statement from the Transport Ministry said the decision was taken after extensive consultations with stakeholders in the transport sector.
Parliament passed the Legislative Instrument 2180 (ROAD TRAFFIC REGULATIONS, 2012) which in regulation 102(3) imposes a mandatory levy on all owners and persons in charge of motor vehicles, for the purpose of towing broken down or disable vehicles on roads.
The LI was to come into effect on July 1, 2017 but an initial public outcry over the monopoly given to Road Safety Management Limited (RSML) a subsidiary of the Jospong group of companies,  to tow all vehicles in the country forced parliament to reconsider.
However, Parliament's Roads and Transport Committee approved the levy after the reconsideration, sparking a major campaign by some individuals and civil society to prevent its implementation.
Among those that fiercely opposed the implementation was the Deputy General Secretary of the New Patriotic Party, Nana Obiri Boahen, who promised to join any demonstration against his own government over the levy.
Read also: https://www.primenewsghana.com/general-news/towing-levy-is-a-lazy-way-to-prevent-accident-copec.html
Road Safety Management Limited led by Chief Executive Officer Joseph Siaw last week launched a public relations campaign in a bid to address reservations over its contract with government. He granted his first radio interview on Accra based Joy FM and Metro TV.
The statement from the Transport Ministry said "upon consultations subsequent to calls, government has decided to seek a review of the parts of the law specifically to achieve the following; (i) Removal from the law, the concept of a mandatory towing levy on all owners and perons in charge of motor vehcles and trailers, (ii) The role of government in the provision of towing services will be limited to only licensing and regulating service providers.
Full statement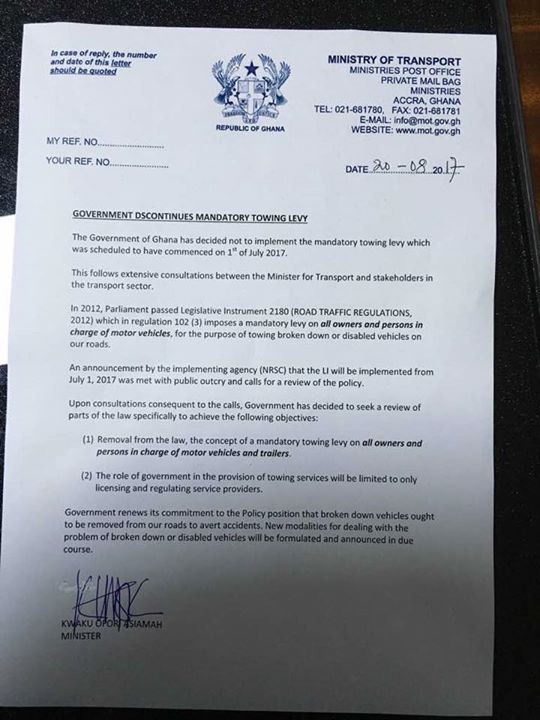 www.primenewsghana.com /GhanaNews