Allotey Jacobs, former National Democratic Congress (NDC) Central Regional Chairman, has been suspended as a member of the party.
The suspension comes after he made some comments last week on Peace FM morning show which did not go down with the party.
National Chairman Samuel Ofosu Ampofo in a release said Mr Allotey Jacobs is being suspended for his persistent anti-party conduct.
READ ALSO: Politicizing COVID-19 will only make us lose focus, let's stop it - Oppong Nkrumah
Allotey Jacobs last week on Peace FM's morning show admonished the National Democratic Congress (NDC) to cease its verbal attacks against President Nana Akufo-Addo over the latter's pledge to construct the hospitals and further advised the party to adopt a wait-and-see approach to know whether the project could even be rolled out before attempting to shoot it down entirely.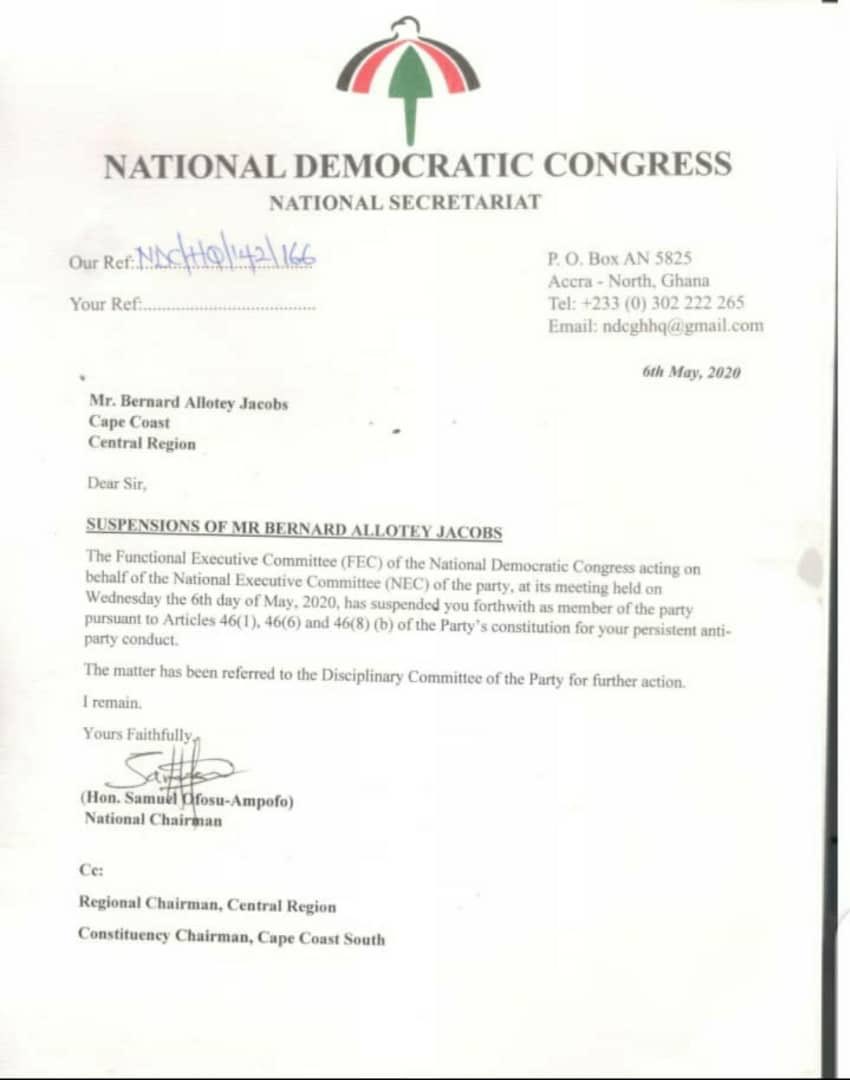 This did not go down with the NDC as on the same platform, the party's National Communications Officer Sammy Gyamfi challenged the composition of the panel stating strongly Allotey Jacobs doesn't represent the NDC any longer and his submissions do not reflect the position of the party either.
Allotey Jacobs narrated to host Kwami Sefa Kayi on Wednesday, May 6th edition of the show that some members and supporters of the opposition party have begun pitching him against the grassroots.
Contributing to a panel discussion on 'Kokrokoo' on Peace FM, the former NDC guru noted that his saboteurs even went as far as misconstruing his words claiming he has accused former President John Dramani Mahama of being corrupt, and also associated him with other false reports.
Allotey Jacobs warned those people to immediately stop badmouthing him stressing he is not deterred by their ''inferior communist tactics''.
Allotey Jacobs has now been suspended by the party and will not be representing them on any platform again.