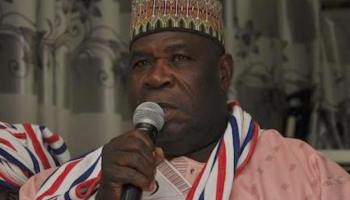 The Northern Regional Chairman of the opposition New Patriotic Party (NPP), Bugri Naabu, is under intense pressure to cough out Ghc50,000 he has allegedly diverted for his personal benefit.
Citi News sources at the party's Northern Regional Secretariat revealed that the money was released for campaigning in the 31 constituencies.
 
The outspoken regional Chairman has been accused of running a one-man administration in his private Fuo residence.
 
A crunch meeting organized to discuss the matter and retrieve the cash, was inconclusive because Bugri Naabu threatened to suspend whoever challenged his leadership style.
According to one of the concerned regional executives, Bugri Naabu at the said meeting claimed the money was meant for his vehicle maintenance.His explanation was contrary to what the party's national secretariat explained to some of the agitated regional executives.
Some NPP members in a Citi News interview condemned Bugri Naabu's action and called for a refund of the Ghc50,000 cedis.
They argued that the party needs enough resources for effective campaigning especially in the Northern Region which is seen as the incumbent National Democratic Congress' (NDC) stronghold.
Some concerned NPP youth have served notice they will demonstrate against Bugri Naabu if he remains defiant in refunding the money.
Source: citifmonline.com