Member of the NPP Gabby Asare Otchere-Darko has asked Parliament to come clear on their intended construction of the new controversial 450-seater parliament chamber.
Gabby Asare Otchere-Darko's request follows the fierce public criticism that has greeted the project.
He wants the parliamentary leadership to make their intention known today Monday, July 8.
"We must know whether or not they are shelving this chamber thing. It is being used to mobilise too many otherwise loyal or neutral people against the Govt. Not on!" Gabby wrote on Facebook.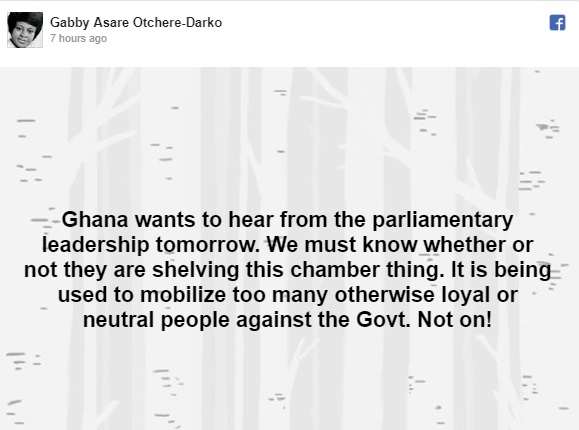 New Parliamentary Chamber : Convener of demo group, two others released
The convener of the demo group, Economic Fighters League, who was arrested Friday morning for disrupting Parliamentary procedure have been released.
The convener Ernesto Kofi Yeboah was released on bail by the Ministries police with two others Abeiku Adams and a third who is yet to be identified - all members of pressure group Economic Fighters League.
Mr. Yeboah and Mr. Adams told Joy FM the police's action during their arrest and subsequent move to the police station left a lot to be desired.
According to Mr. Adams, although he was cooperating with the police during his was arrested, he was still manhandled.
READ ALSO :