Hearts of Oak have started a mass registration for their fan base and there are some possible questions one would like to ask.
We bring you ten possible things you need to know about the Phobian4life support mobilization.
1. What is Phobian4life?
It is the only official membership registration for Hearts of Oak designed to bring together all Phobians as we collate data to help the club develop and provide immense benefits to the fans such as E-Newsletters, Hearts App etc.
2. How do I register and become a member?
All you need to do is to send a minimum of GH 2.00 from your personal MTN mobile money account through this mobile money number ( 0245286686) and you are duly registered. Once it is done we will have your name and contact to start with..
3. How would you know that your registration has gone through?
Once s week (Mondays), our communication department will publish on all of our social media channels the names and contact numbers of all registered members.
4.Why now?
This is fully in line with our vision to transform this club to conform to modern and improving football club trends where the supporters have a direct link to the club information.
5. How can I register if I live in Europe, America, Asia and other foreign lands?
Don't worry at all. You can become a member by registering through the same mobile money number provided (0245286686).All you have to do is to send a minimum of $2.oo etc to the number provided above and you are ready to go..
6. Can I register if I don't have a MTN MoMo account?
Yes, you can. You can pay from your Vodafone or AirtelTigo cash by going through the following steps.
a. Go to transfer/send money.
b.Choose other networks
c. Select MTN
d.Enter the Hearts MoMo account number
e. Enter your preferred amount of a minimum of GH2.00
f.Pin and you are done
7. Can I register by sending the amount through a mobile money merchant or from a friends account?
Yes, you can. Once you send the required amount through the mobile money merchant or through another person's account all you need to do is to take the name of the merchant, the transaction reference number and call us on our hotline 0302223737 and provide us with your name, your personal mobile number , the transaction number and merchant name and your registration will be completed.
8. Will I get a membership card after my registration?
Our first aim is to first gather the database of our fans which we can interact directly with. Membership cards will be the next stage of this project.
9. Do I have to pay every month?
No. The Phobian4life project is a one-off payment and no monthly payments.
10.After paying what next?
Apart from publishing the names of all registered members on our social media channels, you will receive notification sometime after the database has been compiled confirming your membership registration.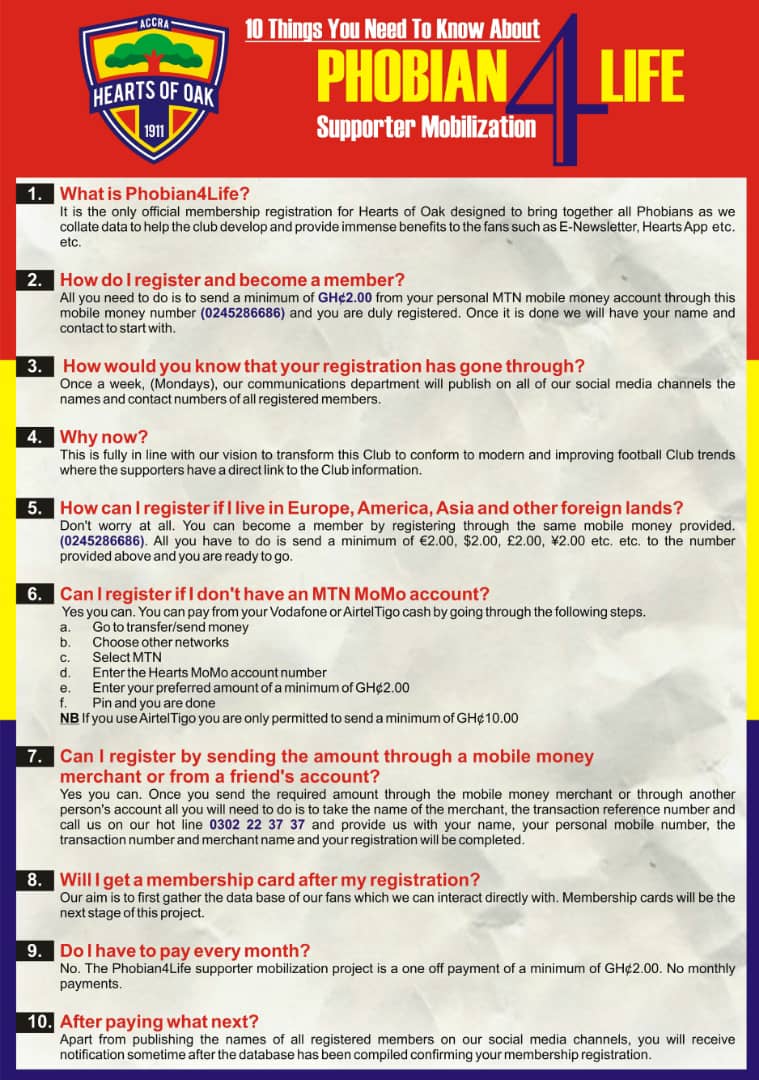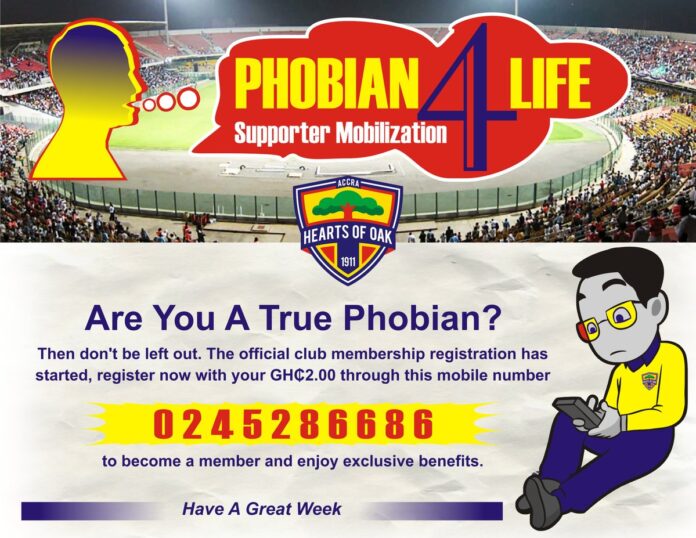 READ ALSO: