The Black Stars of Ghana will face the holders Cameroon, Benin and Guinea Bissau in Group F of the 2019 Africa Cup of Nations in Egypt.

The last meeting between Ghana and Cameroon was in 2017, where Cameroon beat Ghana 2-0 in a semi-final game.
Ghana will have revenge on their minds as they go into the tournament.
Egypt who are the host will have to battle Dr Congo, Uganda and Zimbabwe in Group A.
Nigeria will also do battle with Guinea, Madagascar and Burundi in Group B.
Senegal are also in Group C and will face Algeria, Kenya and Tanzania.
North African side Morocco will play Cote D'Ivoire, South Africa and Namibia in Group D.
Group E has Tunisia, Mali, Mauritania and Angola.
The tournament will kick off from June 21-July 19.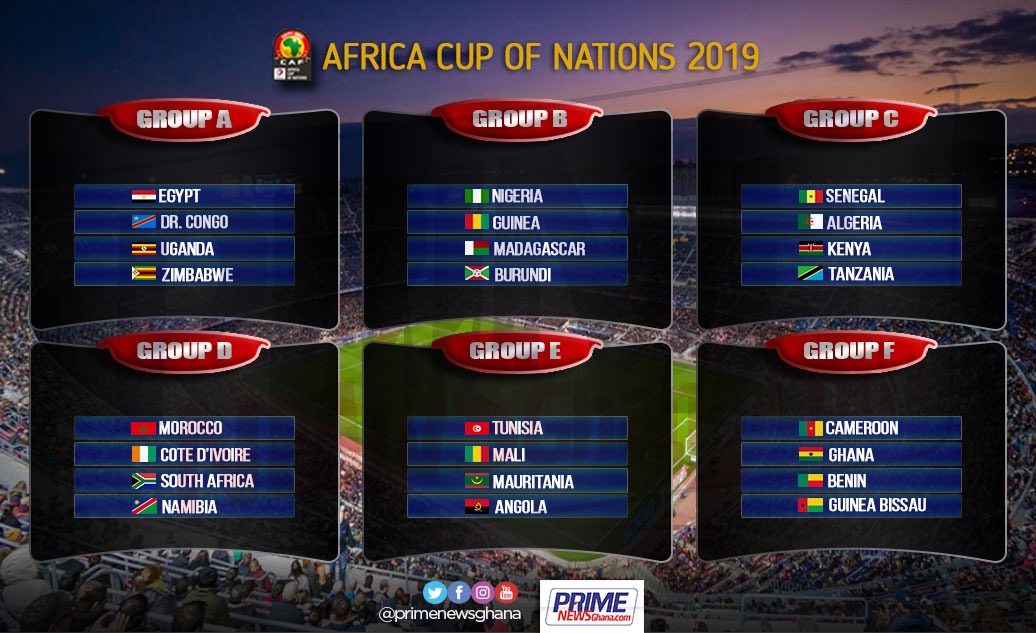 Group A
Egypt
Dr Congo
Uganda
Zimbabwe

Group B
Nigeria
Guinea
Madagascar
Burundi


Group C
Senegal
Algeria
Kenya
Tanzania

Group D
Morocco
Cote D'Ivoire
South Africa
Namibia

Group E
Tunisia
Mali
Mauritania
Angola

Group F
Cameroon
Ghana
Benin
Guinea Bissau
Ghana News: Latest news in Ghana