Like everyone else, WWE superstars are humans too. Although they do some insane stuff inside and outside the ring, that doesn't mean that when they are not doing these things they don't do the stuff that normal people tends to do, such as getting married.
Although WWE superstars tend to stay on road for over 300 days, some superstars have managed to get married this year. Yes, 4 superstars have already walked down the aisle this year and have changed their life forever.
So, let's take a look at those 4 WWE superstars who got lucky this year. Let's get started without further ado.


#4 Ember Moon and Matthew Palmer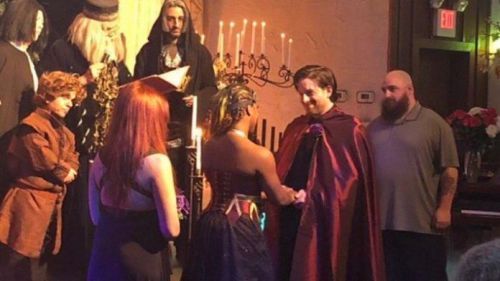 Ember Moon and Matthew Palmer married each other this October. The couple was dating each other for almost three years. In fact, Plamer proposed to her in 2015 when Moon was working in her last indie match, as after that match she was signed by WWE.
Matthew Palmer is also a pro-wrestler currently working in independent promotions.
The couple got married in Las Vegas, NV in the unique Game of Thrones style. Currently, Ember Moon is working on the Raw brand. Since getting promoted to the main roster she hasn't been a part of a women's title match, but her time will come soon.
Also, Ember recently spoke about her marriage with Matthew Palmer.


#3 Cedric Alexander & Aerial Monroe


The former Cruiserweight Champion Cedric Alexander married fellow superstar Aerial Monroe. Aerial Monroe is also a wrestler working on different independent promotions currently.
She recently appeared in the 2018 WWE Mae Young Classic, but unfortunately, got eliminated in the first round by Zeuxis. Before coming into a professional wrestling career, she served in the Air Force and as a firefighter.
Her husband Cedric Alexander won the WWE Cruiserweight Championship earlier this year before dropping the title to Buddy Murphy at WWE Super Show-Down. Cedric and Monroe were in a relationship for a long time and got married recently on June 28, 2018.
They also have a daughter named Odessa. 


#2 Bianca Belair and Montez Ford


The NXT superstars tied knot earlier this year. Bianca Belair and the one half of the NXT tag-team "The Street Profits", Montez Ford, were in a relationship even before they were signed by WWE. The couple got engaged this past year on June 9, 2017, and married on June 23, 2018.
Bianca made her name in WWE when she performed in the 2017 Mae Young Classic. Because of her outstanding performance, WWE offered her a contract.
Her fiance, Montez Ford, is also doing well on NXT brand as he and his tag-team partner are seen as a top tag team.
It won't be hard for anyone to say that both Bianca and Montez have bright futures in WWE. 

Read also: UEFA to use VAR in Champions League knockout stage
#1 Zelina Vega & Aleister Black


Zelina Vega and Aleister Black are the latest addition in the list; the couple got married this past weekend. Yes, according to Wrestle Inc. Zelina and Aleister tied the knot this past week.
Though the couple hasn't confirmed it, expect them to make it official in the coming days. For those of you who didn't know about Zelina and Aleister's relationship, the two superstars were dating each other for a long time. Also, this past year a picture of her and Aleister surfaced on social media.

Currently, Zelina Vega is managing Andrade Cien Almas on SmackDown Live, while Aleister Black is expected to make his main roster debut soon. So, it can be said that things for both are going well. 
Source: Sportskeeda
Latest Sports News Ghana