Ghanaian footballer Kingsley Sarfo has been jailed 2 years 8 months in Sweden after he was found guilty for defilement.
Sarfo was jailed for defiling a 14-year-old girl in Sweden.
According to the prosecutor, on the first occasion, in September 2016, Sarfo raped the victim in an apartment in Malmö. On the second occasion, in June 2017, the abuse took place in a public toilet in Folkets Park in Malmö.
The girl became pregnant and was asked by Sarfo to abort as her mother made a police report.
The midfielder who plays for Malmo FF had been in cells for some time and was facing trial.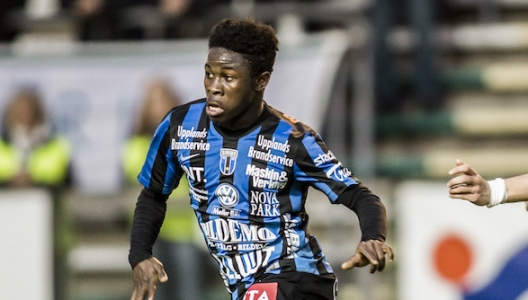 Although he initially pleaded not guilty, the court has found him guilty and he has now been sentenced to prison.
A Malmö District Court sentenced Kingsley Sarfo to 2 years 8 months in jail.
The 23- year old has also been fined 150 thousand Swedish Krona and will be deported to Ghana after serving his jail term.
Read also:Ghanaian midfielder Kingsley Sarfo faces 3-year jail term
Kingsley Sarfo who is currently suspended by his club Malmo FF, was handed a Black Stars call-up for the World Cup qualifier against Uganda but could not turn up due to his legal issues.