The government and FIFA have put in place some measures and plans to help restructure Ghana Football.
A statement from the government explains the outcome of the meeting that was held between the Minister of Youth and Sports and a delegation from FIFA. The two parties have agreed on certain plans that will fasten the process of restructuring our football after the Number 12 expose.
After the meeting held on June 22, 2018, here are the plans agreed upon by the two parties.
1. Both FIFA and the Ghana government have zero tolerance for corruption, criminality and other forms of illegality.
2. The Government of Ghana has the right to enforce its national laws against criminal conduct and illegality.
3. FIFA in consultation with the Ghana government will put in place interim measures to allow the continuation of football in Ghana.
4. The government delegation will continue discussion with FIFA in Zurich, Switzerland for the purpose of finalizing interim arrangements regarding football in Ghana.
Read also: FIFA delegation meets gov't over GFA restructuring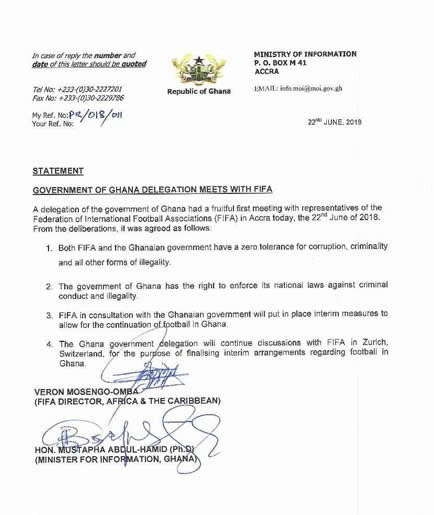 Ghana News: Latest sports news in Ghana