Accra Hearts of Oak has have issued a statement regarding the Anas Number 12 expose which was premiered on Thursday 7, June 2018.
The Phobians were highly involved in the football expose as most of their Premier League matches were fixed in their favour.
Notable among such fix matches was their week eight game last season against Kotoko which referee Samuel Sukah awarded Hearts a late penalty which the Phobians won.
Read also:GFA must be dissolved immediately: Former Sports Minister
In a statement signed by the club's CEO, Mark Noonan, the club insisted that they had no knowledge of their matches being fixed and distance themselves from the acts.
Below is the Statement

Like many Ghanaians, we watched with interest the investigative documentary. Number 12, by Anas Aremeyaw Anas and Tiger Eye PI, and offer the following comments:


1. We believe that anything legal and ethical that uncovers the truth, creates transparency and makes people accountable is good for football in Ghana. We ALL need to hold ourselves to the highest standards, on and off the pitch, if we wish to realize the vast potential of the sport here.

2. While we were pleased and not surprised that no official of our Club was implicated in the report, we are deeply disturbed that Accra Hearts of Oak SC was used bv actors planted by the production company to serve their purpose, This unauthorized use of Imposters posing as Club officials Is not something we would ever condone, and we stronelv condemn it.

3. As a Club, we have a zero-tolerance policy when it comes to any sort of bribery or match manipulation. This policy is covered in our Club's Code of Ethics, in employment agreements and contracts signed by our coaches and players. Anyone violating this policv will be immediately terminated and prosecuted to the fullest extent of the law.

4. We also strongly believe In due process and hope that those that have been accused have the opportunity to defend themselves without prejudice. That said, we also call upon those who know thev have done wrong to look In the mirror and do the right thine bv immedlatelv resigning from their positions.

5. Finally, we call on all of those who truly care about football in Ghana to use this moment to bond together and create a better future for the game in this country. There are so many honest, hard-working, and dedicated servants of Ghana football who don't deserve to be painted by this dirty brush. We look forward to joining with them and doing our part to restore confidence and joy in the beautiful game in this beautiful country.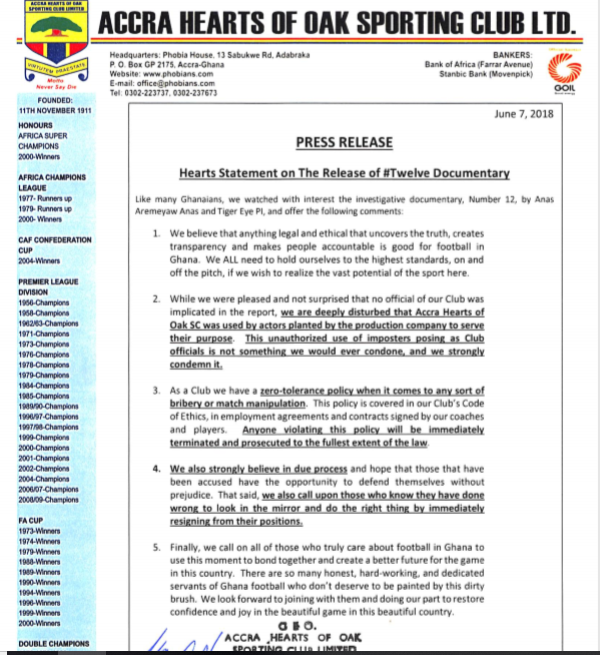 Latest sports news from Prime News Ghana