One of Asante Kotoko supporters groups on WhatsApp, "Porcupines" has donated to Nana Berchie who was behind the wheels when the club's team bus was involved in a fatal accident.
In 2017, Asante Kotoko was involved in a road accident on their way back to Kumasi after honouring a Ghana Premier League against Inter Allies at the Tema Stadium.
The team bus collided with a mini truck on the Kumasi—Nkawkaw road.
The incident claimed the life of the club's deputy equipment officer, Kofi Asare whiles players and other officials sustained series of injuries.
The Bus Driver underwent three successful surgeries in his 70 days stay at the Komfo Anokye Teaching Hospital.
However, Nana Berchie in a recent interview with Otec FM shared his experience three years after the accident, revealing that he has become a burden on his family due to his current state which has restricted him from working.
"Due to what happened I am struggling financially. My wife has gone bankrupt now because she has spent all the resources looking after me. She has gone broke and now it is a big burden on me"
"I am pleading with Kotoko to help me. I am ageing also. I'm not getting any younger so I am pleading with them to help me turn my life around," he added.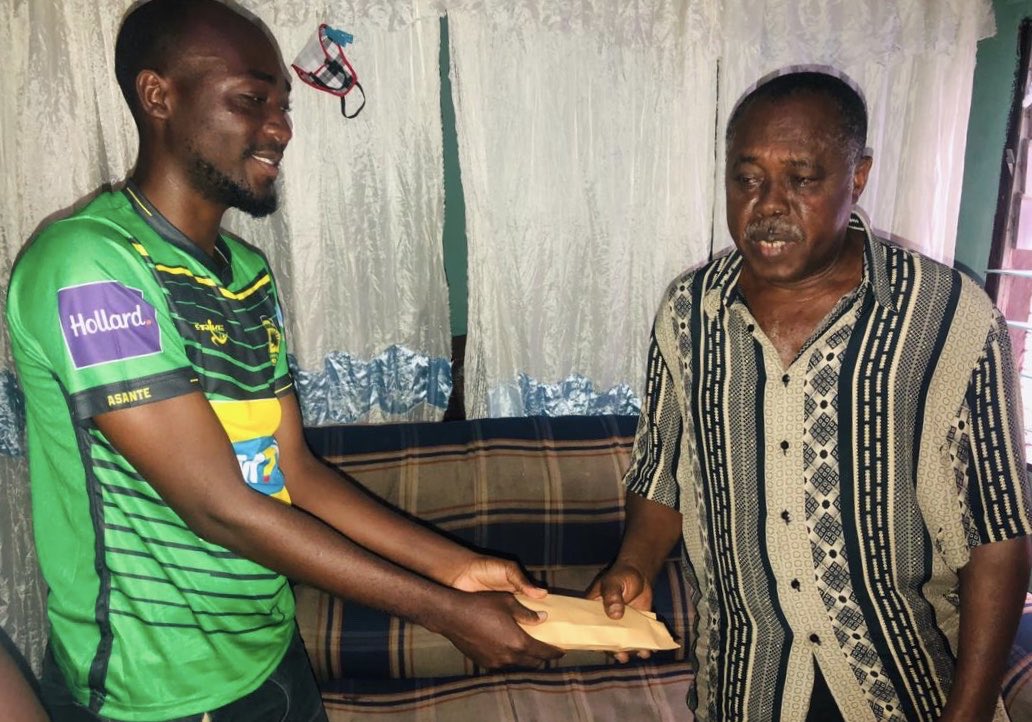 Taking the matter into their own hands, the "Porcupines" WhatsApp group on Friday, July 31, 2020, donated an undisclosed amount of money to Nana Berchie at his residence at Dichemso, Kumasi.
According to Patron of the group Jerome Otchere, who doubles as the Editor for Kotoko Express, they were touched when they heard his situation and decided to organize themselves to support him.
He further stressed that the donation is to pay for his rent which the man stressed that, he's been facing difficulties in paying in one of his recent interviews.
"I bless every pocket that contributed towards this. I thank you very much for reacting to the issue. I am even crying now," emotional Nana Berchie said.
Seth Adu Asamoah, who was part of the four men who did the presentation on behalf of the group added that;
"Kotoko is a family and this donation is as a result of your good works for the club previously. We heard you are having issues with your rent and there's an adage that says 'whoever wants something good for Kotoko should not be played wicked' and we will plead with you to exhale any bitterness in you and whenever you call upon us, we will be there for you," he ended.
This is the type of fans Kotoko have: Nice, kind and wonderful people! Keep up the spirit!
Credit: myfabulousonline