The Sports Writers' Association of Ghana led by President Kwabena Yeboah has officially inaugurated its Western Regional branch on Saturday, September 5, 2020.
The event which was held at the Naakof Hotel in the Regional capital saw SWAG executives and other dignitaries graced the occasion.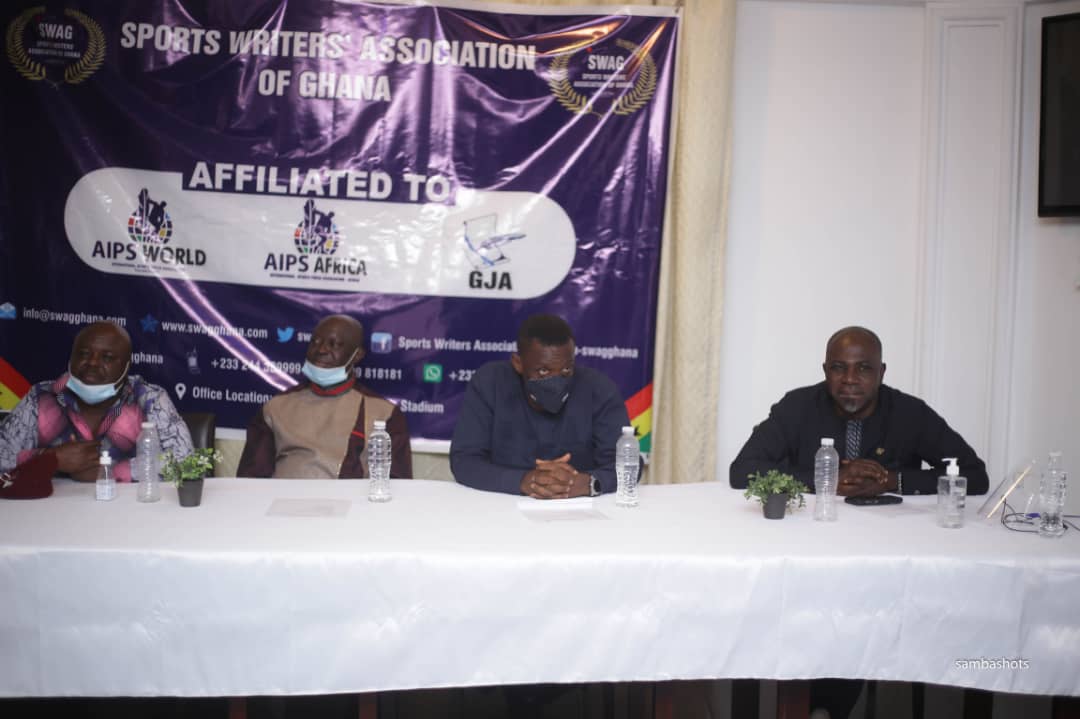 From Left : Hon Joseph Cudjoe, President Kwabena Yeboah, Regional Minister Kobby Mensah and MCE Wilson Arthur.
Speaking at the event President of SWAG Kwabena Yeboah said: "There are opportunities for every SWAG member because it makes you a member of AIPS International which facilitates travelling of sports journalists outside the country. We create a SWAG card for every member and we will make sure it become as relevant as possible and I have already interacted with the President of the Ghana Football Association [Kurt Okraku] and stakeholders of other associations on that.
The card will also facilitate your movement outside the country because it qualifies you to be an AIPS International member. AIPS also provide educational and other opportunities for its members"
He added that, "Our mission is to inaugurate and bring together sports journalists across the country under one umbrella and carry on from where our forefathers left us. We have over thousand practising sports journalists across the country and we [SWAG] saw the need to bring all of them under the same umbrella with one voice.."
"Sharing of opportunities is accrued to our profession as sports journalists. We hope to build the capacity of our sports journalists across the country. We focus on sharpening our skills by organising lectures and seminars to improve the quality of sports journalism in the country…"
Mr Joseph Cudjoe, MP and Deputy Energy Minister, admonished members of SWAG to reduce unconstructive criticism and concentrate on developmental sports reporting.
He asked members to emulate the legendary SWAG president, Mr Kwabena Yeboah, "who has survived the work and built an untainted personal brand because of his style of reportage."
The MP, who has built sporting facilities in his constituency, pledged his support to SWAG Western region in helping the association grow and become relevant.
Western Regional Minister Kwabena Okyere Darko Mensah, Wilson Arthur of Skyy FC, Mr Joseph Cudjoe (Deputy Minister for Energy), and other top officials graced the occasion.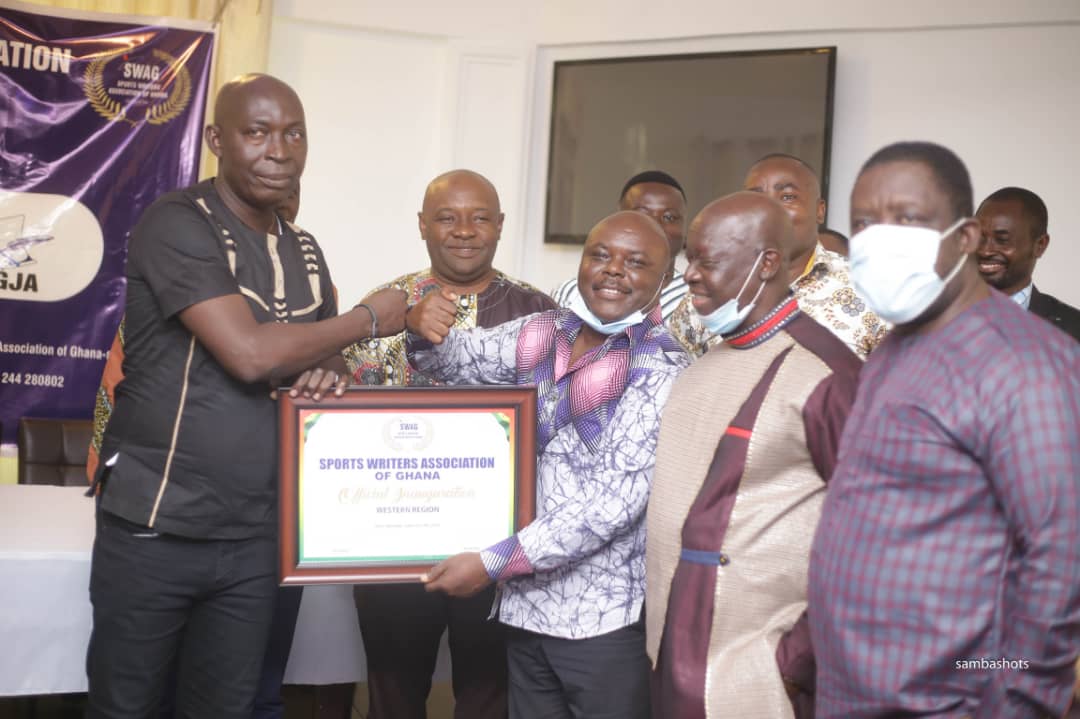 SWAG Western, which is the fifth regional branch, is under the interim leadership of George Kuntu Blankson - Chairman, Anthony Ekow Essilfie - Vice Chairman, Joseph Mensah Oty Asrifi – Secretary, Kweku Sagoe- Ass Secretary, Stephen Kwame Yeboah – Organizer, Amy Fynn-Thompson - Welfare, Samuel Owusu Bediako (J.M Ceaser) – Treasurer, Yaw Kyei Baffour – Member, James Kojo Bawa Anderson – Member and Umar Sander – Member.
The leadership has been tasked to steer the affairs of the newest SWAG's infant body, bring all practicing sports journalists in western and the western north under the SWAG umbrella, offer welfare and training support for members.
The Western Region which boasts of a vibrant sports media from radio, television and print, is the third biggest in the media landscape in Ghana.
SWAG, the umbrella body for the sports media in Ghana has been in existence for over 52 years and over the years been solely responsible for honouring Ghanaian sportsmen & women who excel representing Ghana in international competitions, shaping sports journalism and bring all practitioners under one umbrella.