Egypt failed to win a single game at the Russia 2018 World Cup as they bow out of the tournament with a 2-1 defeat to Saudi Arabia.
Both teams were already out of the competition and a win was only for pride.

Egypt started the stronger of the two sides and eventually scored on the 22nd minute.

Mohamed Salah picked up a pass and gots to the edge of the box before clipping a brilliant lob over the goalkeeper and into the empty net.
This looked like the North Africans were going to score more but Saudi were awarded a penalty in the 41st minute.

Egypt's goalkeeper Essam El-Hadary was on hand to save the penalty by Fahad Mosaed and kept it at 1-0 to his side.

Just when the first half looked to be ending in favour of Egypt, Saudi won a second penalty and this time Salman scored to make it 1-1.

Both teams came out strong to search for the winner but it was Saudi Arabia who snatched an added-time goal to record their first win since 1994.

Egypt goalkeeper Essam El-Hadary became the oldest player in World Cup history at 45 years and 161 days old to play in the tournament.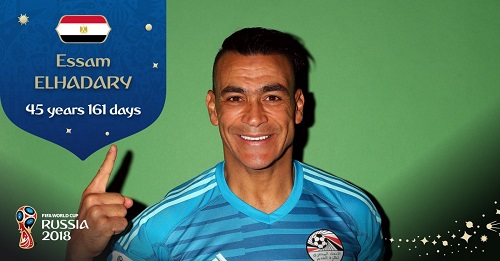 Read also:Russia 2018: All the exclusive photos you missed#OffsideRussia18
The record is currently held by former Colombia goalkeeper, Faryd Mondragon, who played at Brazil 2014 as a 43-year-old.
Ghana News: Latest sports news in Ghana