The first game developer signed up to test Facebook's plan to put adverts into Oculus VR games has reversed course after a backlash from players.
It comes days after Facebook announced it would place adverts inside players' headsets, starting with shooter game Blaston.
It was the only named title listed to take part.
But its maker, Resolution Games, has now said its game "isn't the best fit" for in-game advertising.
After an outcry from gamers, the company issued a statement to media outlets from chief executive Tommy Palm, saying it had seen the feedback.
"Some good points have been made, and we realise that Blaston isn't the best fit for this type of advertising test. Therefore, we no longer plan to implement the test in Blaston," he said.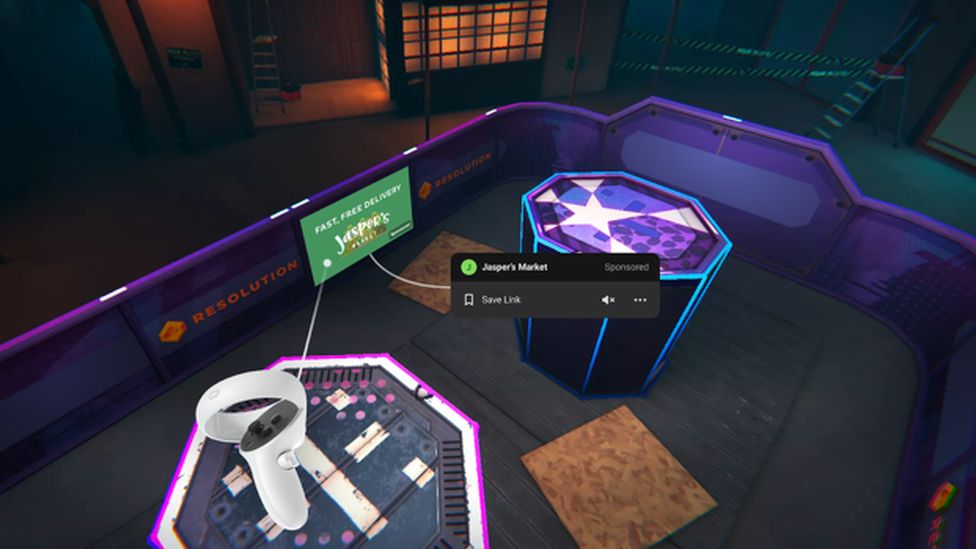 But he added that it might move the test to one of its other games - a free fishing title called Bait! - in the future.
He said that "if ads in VR become inevitable as [they have] on other platforms, we want to ensure we... do it right".
Facebook has previously said a couple of other developers will be involved in the test and revealed in the next few weeks.
'Selling out'
The backlash to the initial announcement was swift.
Blaston was quickly "review bombed" in online stores - both Oculus's own store and PC gaming store Steam.
Angry gamers accused the company of "selling out to Facebook" or "handing the future over to a deranged billionaire and his ad-fuelled dreams".
Others called for refunds.
The reaction is part of a continuing debate about Facebook's role in the future of VR, which has been rumbling on for years.
Oculus, Facebook's VR wing, started out as a much-admired independent company, widely credited with bringing modern VR gaming into the mainstream.
Its first VR headset was announced in 2012, and managed to crowdfund more than $2.4m (£1.7m). Facebook bought the company for $2bn (£1.4bn) just two years later.
The sale immediately raised concerns among gamers - including many of its Kickstarter backers - convinced that Facebook would bring some of its business practices as a data-led advertising firm to the gaming platform.
Oculus co-founder Palmer Luckey sought to downplay such fears at the time.
He wrote in various online posts that Facebook had pledged not to require users to have a Facebook account in order to use Oculus devices - something it brought in last year - and that Oculus would not "flash ads at you".
He has since posted in online forums to say he genuinely believed the assurances at the time.
'A big opportunity'
Facebook's long-term plans have remained a contentious issue among VR gamers.
Fans broadly see Facebook's Oculus Quest 2, the most popular VR headset, as good for the industry as a whole.
But others believe Facebook is selling its headset far more cheaply than its competitors, such as Valve's Index, in a bid to dominate the market so that it can be used to gather data, like Facebook itself.
Many analysts speculate that Facebook is selling the Quest 2 at a loss - or barely above cost - to achieve its market dominance. It now has 30% of the PC VR market, according to Steam statistics.
Richard Windsor, an analyst at Radio Free Mobile, said that cost is a "rounding error" in Facebook's accounts.
"I think that Facebook will quickly kill these advertising experiments because the last thing it needs to do right now is to enrage its user base just as the momentum is beginning to build," he said.
"Facebook has a big opportunity with this platform, and it makes more sense to sit tight and look to monetise it more effectively once it has really established itself as a leader in the VR market."
BBC