Turkey's long-standing leader Recep Tayyip Erdogan has won a new five-year term after securing outright victory in the first round of a presidential poll.
Election authority chief Sadi Guven said the president "received the absolute majority of all valid votes".
State media reports put Mr Erdogan on 53% with 99% of votes counted, and his closest rival Muharrem Ince on 31%.
The opposition is yet to officially concede but said it would continue its democratic fight "whatever the result".
It had earlier cast doubt on results being broadcast by state media. Final results will be announced on Friday.
The polls were the most fiercely-fought in many years, and Mr Erdogan is set to assume sweeping powers under a new executive presidency.
The 64-year-old gave a triumphant victory speech from the balcony of his party's headquarters in the capital Ankara at 03:00 (00:00 GMT), declaring: "The winner of this election is each and every individual among my 81 million citizens."
There are reports that Republican People's Party (CHP) presidential candidate Mr Ince has admitted defeat in a message to a journalist, though this has not been confirmed.
Earlier on Sunday he accused state-run news agency Anadolu of "manipulation" over its reporting of vote-share figures.
There were another four candidates on the presidential ballot, none of whom appears to have won more than 8.4% of the vote.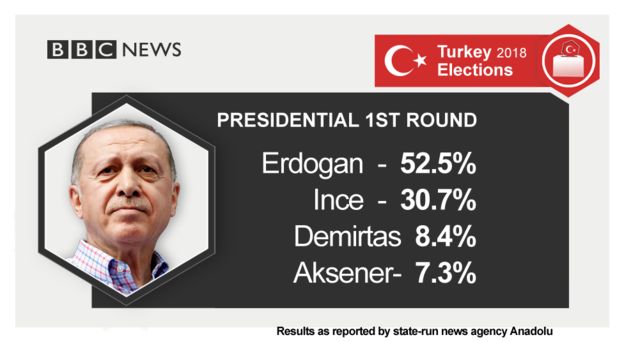 What does the result mean?
President Erdogan will assume major new powers under Turkey's new constitution. The changes were endorsed in a tight referendum last year by 51% of voters, and are due to come into force after the election.
They include:
Directly appointing top public officials, including ministers and vice-presidents
The power to intervene in the country's legal system
The power to impose a state of emergency
The job of prime minister will also be scrapped.
Some critics argue the enhanced role will place too much power in one person's hands, and that Turkey's new system lacks the checks and balances of other executive presidencies like France or the US.
Mr Erdogan maintains his increased authority will empower him to address Turkey's economic woes and defeat Kurdish rebels in the country's south-east.
In his victory speech, he said Turkey would act more firmly against terrorist groups, and would continue to "liberate Syrian lands" so refugees can return to their homes there.
Mr Erdogan was prime minister for 11 years before becoming president in 2014. Under the new constitution, he could stand for a third term when his second finishes in 2023, meaning he could potentially hold power until 2028
Was the voting free and fair?
Security was tight at polling stations. Ahead of the vote, concerns had been raised about potential voter intimidation and electoral fraud.
Turkey's election commission has already said it will investigate alleged irregularities in Urfa province, on the southern border with Syria.
Voter turnout was high at almost 87%, the state broadcaster reported.
Mr Ince had said he would spend the night at the electoral commission's headquarters in Ankara to ensure a fair count. In a tweet, he asked election observers not to leave the ballot boxes.