Aggrieved customers of EL Real Estates and Tikowre Capital have stormed East Legon-based Zoe Embassy Church where the companies' founder, Kelvin Kobiri is a pastor.
The customers are demanding that their locked-up investments be paid back to them.
This is the third time the disgruntled customers from Takoradi and other parts of the country have besieged the church premises to demand their locked-up funds.
READ ALSO :  Over 7,000 cases filed against founder of Zoe Embassy Church, Pastor Koribi 
The Church was closed when the customers arrived around 8.am on Sunday. But some of the customers said in an interview that they although the church has been closed today, they will remain at the premise until they get their monies.
Richard Alinka, a customer from Tarkwa in the Western Region said, despite getting the Criminal Investigations Department (CID) involved in the matter and getting Pastor Kobiri's promise of paying them in three months.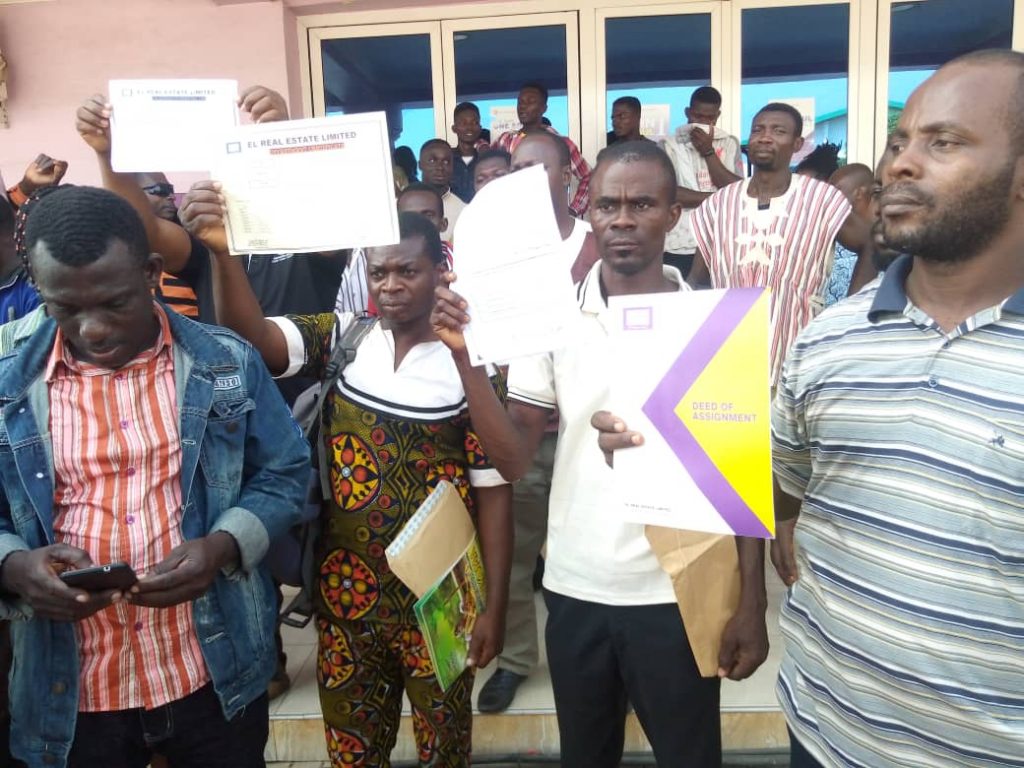 "We are victims of EL Real Estate and Tikowre Investment owned by Pastor Kelvin Elson Godson, founder and overseer of Zoe Outreach Embassy. We the complainants did our investments individually but when it was due for us to get our money, the principal cum the interest wasn't coming forth.
We met the CID at the Head Quarters on the 10th of October, 2019. Kelvin Elson Godson agreed to give us our money in three months time. The 90 days expired and we didn't get our money. We thought that we were safe, going to the CID and they will do something about it but nothing was done and now we are restless. We don't have any help from anywhere."
The customers in June also stormed the church to demand their locked up investments.
According to them, they were convinced by the founder and leader of the Zoe Outreach Embassy church, Pastor Kelvin Kwesi Kobiri to invest with EL Real Estates and Tikowrie Capital; but have not been able to withdraw their dividends or principal since November 2018.
The aggrieved members, who disrupted church service briefly at Zoe Outreach Embassy, claimed the leader of the church, Pastor Kobiri, who owns the two entities.
Some of the members who spoke to Joy FM claimed it has become a nightmare even getting to speak to Pastor Kobiri.
According to a member, who claimed to have invested GH¢500,000 with EL Real Estates, Pastor Kobiri introduced them to the entities during one of his services.
He said he chose to do the investment because he trusted the Pastor.