The Energy Commission released a statement announcing that the Electricity Company of Ghana (ECG) is taking over the operations of Ghana's power distribution from the Power Distribution Service (PDS) on a temporary basis.

This comes after government suspended its concession agreement with the PDS.
The Energy Commission said ECG is taking over on the interim as the agreement between Ghana and PDS had become "impaired."
The Commission noted in the statement that the demand guarantees submitted by PDS to ECG have been "disavowed".
They also directed PDS to ensure an easy transition.
Portions of the statement read: "In consequence of the above, PDS is to facilitate and provide ECG with the needed access to all billing systems, metering operations, payment accounts required for the effective operation of the retail sales licence."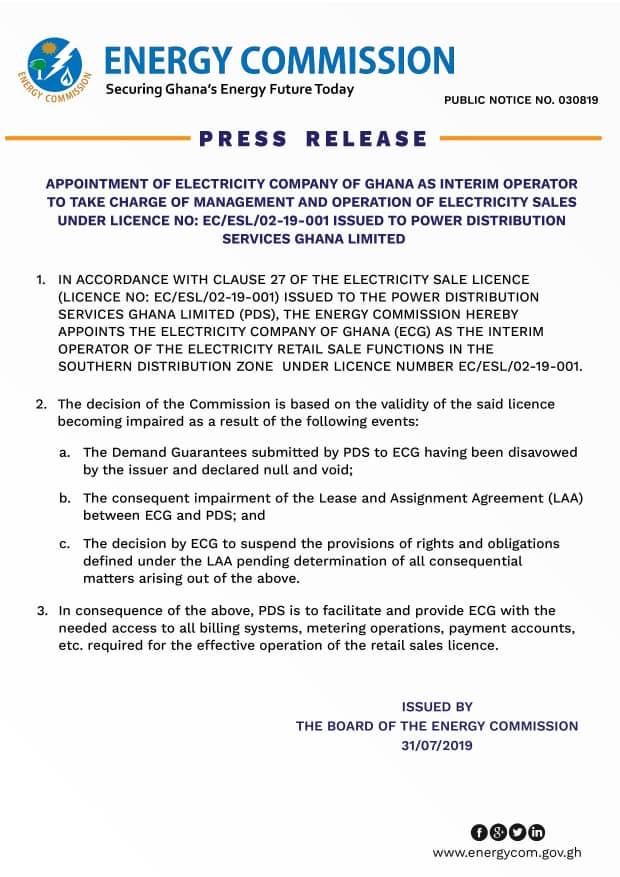 Suspension
Government has on Tuesday suspended its concession agreement with the Power Distribution Services (PDS) who were the distributors of electricity in Ghana.
This moves means that the Electricity Company of Ghana will once again take full control of power distribution.
The decision according to government was taken following the detection of fundamental and material breaches of PDS' obligation in the provision of Payment Securities (Demand Guarantees) which was discovered upon "further due diligence."
"The Demand Guarantees were key prerequisites for the lease of assets on 1st March 2019 to secure the assets that were transferred to the concessionaire," a statement signed by the Minister of Information, Kojo Oppong Nkrumah stated.
Despite the action, the statement clarified that "The general public and customers are assured that this development will not interfere with the distribution of electricity services to customers."
READ ALSO :