Chief Moomen's 'WogbeJeke' play returns and is set to be staged at the National Theatre in two shows on Sunday, 25th September 2016 at 4pm and 8pm respectively.
The series, written and produced by Chief Moomen re-enacts the history of Ghana from ancient to modern times and after much acclaim at last year's showing, 'WogbeJeke: The Tale of Two Men' hopes to gain more ground this year.
With its 120 member cast and crew, the colourful play offers a narrative that presents events leading up to Ghana's independence from British Colonial rule. It features the stories of J. B Danquah and Kwame Nkrumah, two of the major figures in the struggle, as well as other actors whose efforts where significant in the independence struggle.
Tickets can be secured at the Airport Shell, Osu Koala and National Theatre for GH¢60 regular and GH¢40 for children.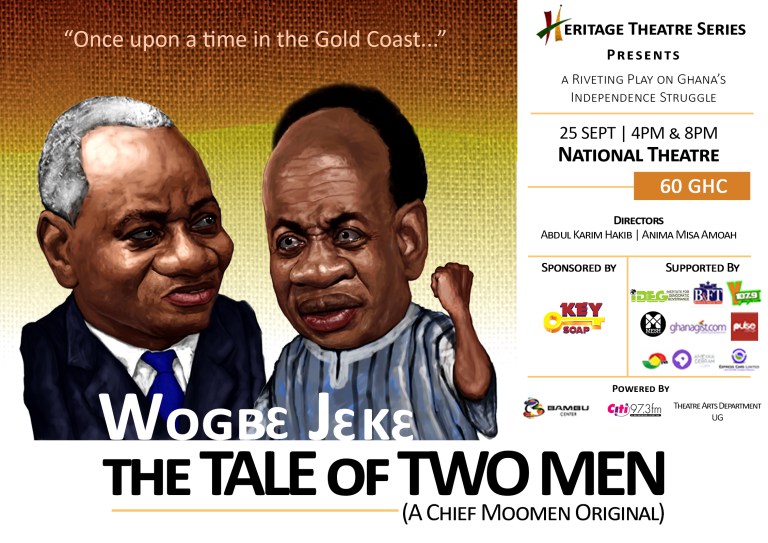 The play shall have another showing at the Drama Studio of the University of Ghana from Thursday 6th October to Sunday 9th October at 7:30pm each night. Tickets will be available at the gate for GH¢30 Adults and GH¢10 for students.
The play is written and produced by Chief Moomen and directed by Abdul Karim Hakib. It is sponsored by Key Soap and supported by IDEC and Citi Fm. The production is brought to you by Bambu Centre in partnership with the Department of Theatre Arts, University of Ghana.
Folks can reach cell line (+233) 0246197841 for further enquiries.