One of Ghana's most sought after Spoken Word artist Willaim Kumi Du Bois known by the stage name Koo Kumi has achieved another feat in his glowing career.
The young artist who is an alumnus of the Ghana Institute of Journalism (GIJ) has won two awards for his hard work.
The first award was an honorary award from GIJ Eminence Awards 2019 for being one of the 30 eminent alumni of the University under the age of 60.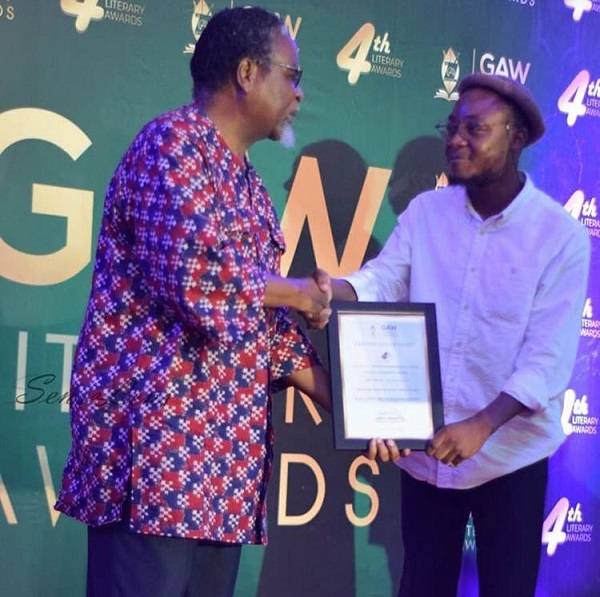 The second award was from the Ghana Association of Writers, where he grabbed the 3rd Prize in the Spoken Word category (The Kofi Anyidoho Prize) with his current body of work, Woke On The Mountain (Comfort).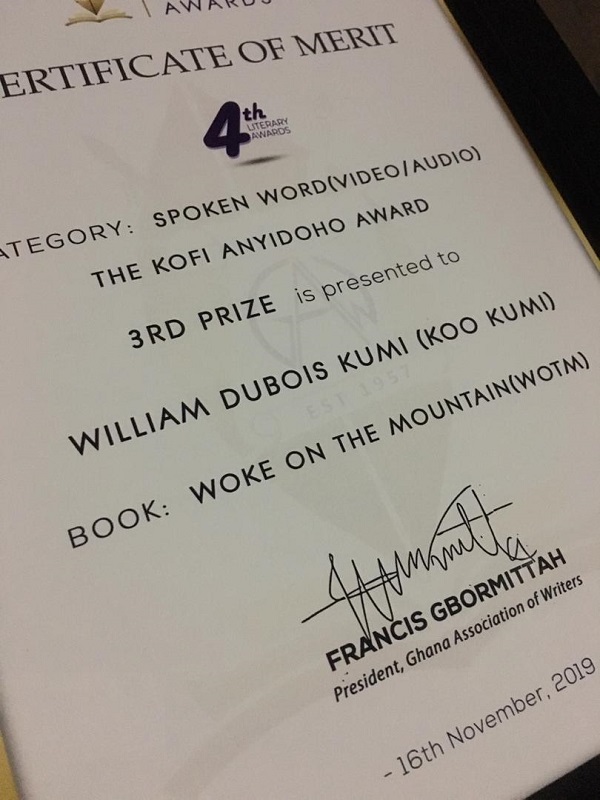 Koo Kumi speaking to Prime News after winning both awards said "I wish to use this opportunity to dedicate these awards to my sweet mother who is no longer interested in the affairs of the living and my entire family. I want to dedicate these awards to everyone who has over the years accepted me and my art for what it is and has placed a value on it. These awards are for my people up on the mountain, especially the Honourable Deputy Minister and Member of Parliament for Akuapem North, Hon. Nana Ama Assiamah Dokua and the Municipal Chief Executive of Akuapem North, Hon. Dennis Aboagye. These two people pledged their support for me and that of the whole Akuapem North. I want these awards to be a yardstick for every young person with nothing to create something for him or herself to benefit other people. These awards are for my homeboys and girls for being a part of the journey selflessly and loyally. Let this be an indication that we can accomplish more than we have imagined and there is still more to be done.
Thank you to the two bodies for identifying my work and granting it the recognition it deserves. May we all increase in our positive works and render our best all the times."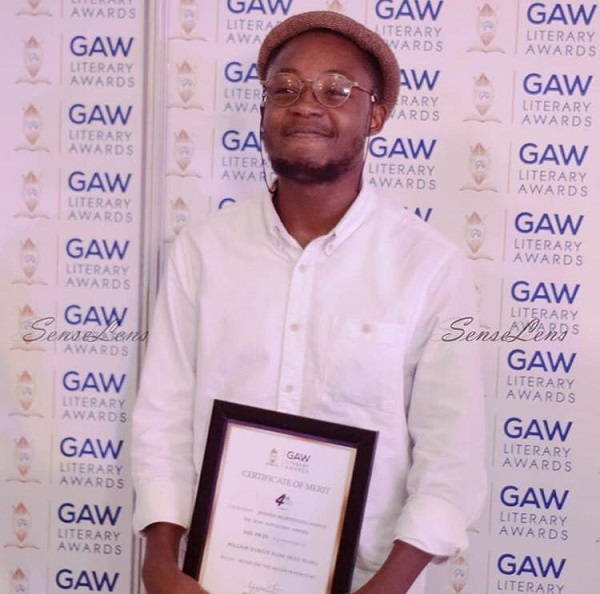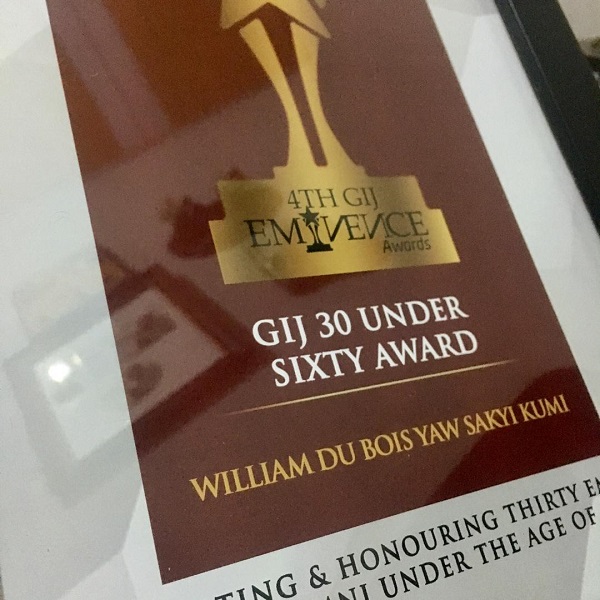 All you need to know about Koo Kumi
William Du Bois Yaw Sakyi Kumi also Known as Koo Kumi is a spoken word artist who describes himself as a multi-disciplined artist with a background in visual arts and performance art. He hails from Mampong Akuapem from the Eastern Region of Ghana.
He is known by many as a poet and a photographer. He started putting his poems out on social media in 2012 after writing for a long time. Koo Kumi won the first national teen slam in Ghana in 2013 at the National Theatre with his co-performer Nana Yirenkyi.
His style of poetry is inspired by real-life experiences which has earned him a spot on peoples lists of expressionists artists. In his early 20s, Koo Kumi exudes an elderly man persona in his works: delivering records akin to an Abusua Panyin.
He has a unique fashion Style which blends deep-rooted Ghanaian Traditional culture with some contemporary influence. He majored in Journalism at the Ghana Institute of Journalism (GIJ), where he won the Student Poet of the year award at the GIJ Eminence Awards in 2017 and an honorary award as part of the University's 6Oth anniversary.
He is the leader and founder of Trotro Vibes, an art movement which uses public transport as a stage to perform. Visit www.kookumi.com for more information.