Former TV presenter and mental health advocate Abena Korkor has disclosed politician Sammy Awuku has filed a legal complaint against her for offensive conduct.
Abena Korkor once alleged that Sammy Awuku had consensual sex with her.
The mental health advocate who has been battling bipolar told GHOne presenter Serwaa Amihere to the surprise of many that she has had sex with the respected married politician.
She also claimed at a later date that Sammy Awuku and John Boadu were dating Serwaa Amihere together.
Abena Korkor has been raising eyebrows for some time now with her live and sometimes recorded videos that recount celebrities and popular persons she has slept with and how long they lasted on her.
In a recent twist, Abena took to her page to share a screenshot from her WhatsApp between her and Dr Yankson of the Criminal Investigation Department (CID) requesting her presence at the CID office for questioning today.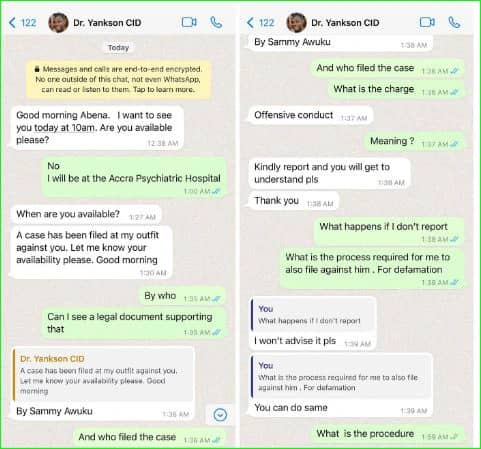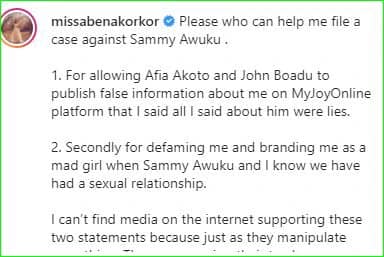 READ ALSO: 'TV3 used and dumped me' – Abena Korkor still bitter
In another post on Instagram, Abena Korkor posted an old video where Media personality, Deloris Frimpong Manso (Delay) where announced that she has been sued by Sammy Awuku.
In the caption to that post, she stated that she was a scientist and did not know much about the law hence she will need guidance and support from lawyers on social media to fight the complaint made against her.
Abena wrote, "Thank your @delayghana for allowing me to speak. Women deserve to be heard. The legal battles has started. I have god on my side first of all. I need your support. A legal complaint has been filed against me by @sammiawuku for offensive conduct. I need volunteer lawyers and legal practitioners".
"I am a scientist, not a legal person. I would need guidance and support".
She further stated that even though she doesn't have the finances, she will fight the politician 'fire for fire', she's not giving up any time soon.
"No one is shutting me up this time. I am fighting fifer for fire" she added.