Legendary Ghanaian musicians are those musicians who by their songs or band has made the world know Ghana.
Some Legendary Ghanaian musicians who have put Ghana on the international scene are as follows in no particular order.
1. Rocky Dawuni is one of the Legendary Ghanaian musicians
Rocky Dawuni is a Ghanaian singer and songwriter who performs his signature 'Afro Roots' sound which is a mixture of Reggae, Afrobeat, and Highlife. He currently lives in Ghana and Los Angeles.

Rocky Dawuni Dawuni had recorded six albums by 2015. His sixth studio album titled 'Branches of The Same Tree' released 31 March 2015 was nominated for a Grammy Award for Best Reggae Album in December 2015 for the 58th Annual Grammy Awards.
2. Osibisa 
Osibisa is a Ghanaian Afrobeat band, founded in London in 1969 by four expatriate African and three Caribbean musicians. Their music is a fusion of African, Caribbean, jazz, funk, rock, Latin, and R&B.
The Ghanaian founder members of Osibisa - Teddy Osei (saxophone), Sol Amarfio (drums) and Mac Tontoh, Teddy's brother (trumpet) - were seasoned members of the Accra highlife scene before they moved to London to launch their attack on the world stage.
During the late 70s, they spent much of their time on world tours, playing to particularly large audiences in Japan, India, Australia, and Africa.
3. Amakye Dede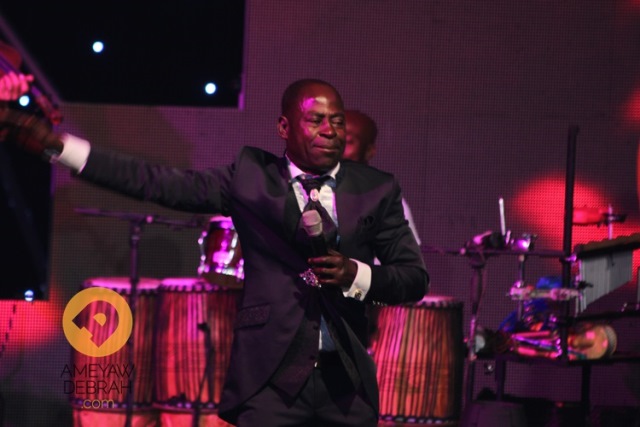 Dan Amakye Dede is one of the Legendary Ghanaian musicians, he is credit for being part of the pioneers of highlife.
 Amakye Dede formed his own band, the Apollo High Kings, in 1980. He dominated the highlife scene in the 1980s and 1990s and has continued to have hit songs in the 21st century. He has headlined so many concerts locally and internationally.
He made almost 20 albums. In his later career, he experimented with different genres; soca, calypso, lovers rock and pop music.
Paapa Yankson
Benjamin Paapa Kofi Yankson, known as Paapa Yankson is a Ghanaian highlife singer, songwriter, and producer. He recorded two dozen albums during his career; his hit songs included "Wiase Mu Nsem", "Show Your Love", "Wo Yere Anaa Wo Maame", and "Tena Menkyen".
He won multiple awards, including Best Composition for his song "Yaaba" at the 1997 Konkomba Awards. He was a recipient of the Grand Medal of Ghana for his contribution to Ghanaian music.
Paapa Yankson recorded two dozen albums during his career. 
Yankson taught and performed in many countries across the world, including the United States, Canada, Belgium, United Kingdom, Germany, and Holland.
Gyedu-Blay Ambolley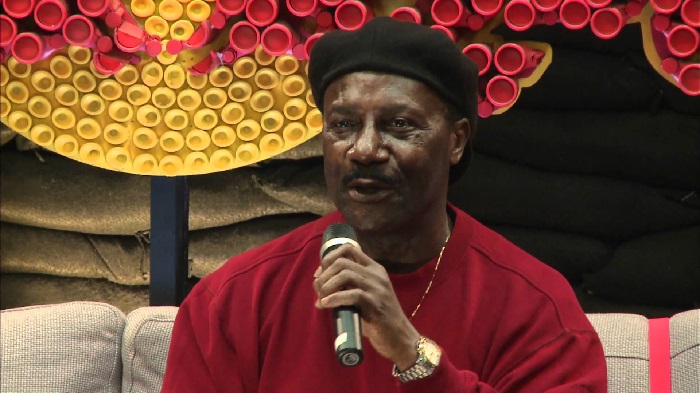 Gyedu-Blay Ambolley is a Ghanaian highlife musician, songwriter, producer, and composer. The first musician from Ghana to formally incorporate rap forms into local highlife rhythms, Ambolley created the musical genre Simigwa.
In June 2015 Ambolley received a citation in the USA from the City Council of Philadelphia, read by Council woman; Honorable Jannie Blackwell and Hon. Stanley J. Staughter in recognition of the musician's contributions to Ghanaian music in the USA.
Gyedu-Blay Ambolley was rather unknown outside of West Africa until Soundway Records included his seminal Simigwa-Do, which Ambolley released in 1973, on their first anthology, Ghana Soundz. Ambolley's sound has led many to label him the godfather of hiplife, the fusion of the hip-hop and highlife idioms.
Kojo Antwi
Kojo Antwi, also known as "Mr. Music Man", is a Ghanaian Afro-pop, highlife, and reggae musical artist
Kojo Antwi started his music career immediately by playing with Boom talents, a band. After, he became the front-man of the then newly formed Classique Handel's (later Classique Vibes).
His first solo album, "All I Need is You," became a chartbuster in Ghana. His music is a blend of West Africa's highlife, soukous, the Caribbean's lover's rock, and a dash of Afro-America's soul and R&B.
Antwi has received the West Africa Tourism Award, All Africa Music Awards, Kora Award, and the Our Music Award
Paa Bobo
Dr. Paa Bobo's real name is Kwaku Agyapong Danemah, in 1968, Kwaku Agyapong Danemah started his music career by learning how to play rudiments of guitar from Smart Nkansah (Ghana's ace guitarist) and later formed his band in Nigeria.
Standing as the only African music legend who recorded 2 hit albums in 2hours with DeccaNigeria, Dr. Paa Bobo has 40 albums to his credential and 35 great hits songs.
The multi award-winning superstar and african's legend has worked with great names like Okukuseku International Band, All Brothers Band, the Kusum Agoromma (Drama studio now known as National Theatre), Smart Nkansah. And has toured and musically explored countries like Nigeria, Ivory Coast, United Kingdom, Italy, and Holland.
A.B Crentisil 
Alfred Benjamin "A. B." Crentsil is a Ghanaian musician. He is one of the big three of contemporary Ghanaian vocalists.  Crentsil has won numerous Ghanaian music awards including the Fontomfrom Evergreen Award, a special honour bestowed upon a musician with 15–20 years of continuous music experience.
Crentsil opened a 16-track recording studio in 1990. The Devil is Crentsil most well-known song.
Nana Ampadu 
Nana Ampadu is a Ghanaian highlife musician credited with numerous popular highlife tracks and he is known to have composed over 800 songs.
Nana Ampadu was born at Obo Kwahu in the Eastern Region of Ghana on the 31st March 1945
Nana Ampadu of Ghana formed his African Brothers Band in 1963 as one of the many guitar-based highlife groups that rose in Ghana in the '60s.
The trademarks of the group are their adherence to performing only their own songs (as opposed to the common practice of simply covering other groups' compositions), as well as putting forth a political message within each of their songs.
George Darko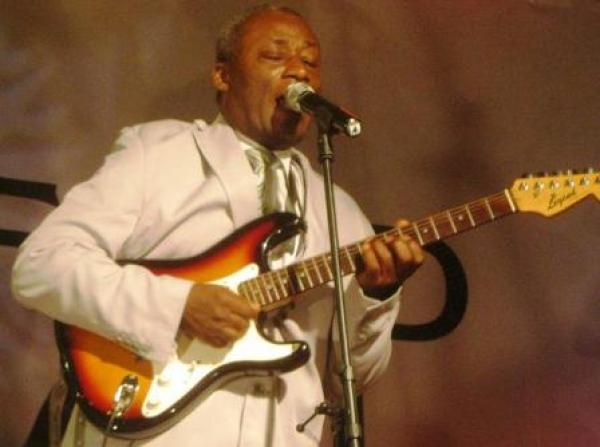 George Darko is also in the category of Legendary Ghanaian musicians who introduced the Burger-highlife with his first hit "Ako ti brofo" (Even Parrots speak English), which was very popular in the early 1980s.
After playing for an army band entertaining troops in the Middle East, Darko returned to Ghana and formed the Golden Stool Band. In the late 1970s the band moved to Germany, where Darko went solo and formed the Bus Stop band in 1982. Returning to Akropong in 1988,
Studio Albums
• Friends (1983, Taretone)
• Highlife Time (1983, Sacodisc International)
• Moni Palava (1986, A&B Records)
• Soronko (1988, Musicolor)
• Highlife in the Air (1994, Boulevard Records)
• Come to Africa (Unknown, Okoman Records)