Disk Jockeying child star Erica Armah-Bra Bulu Tandoh, alias DJ Switch gave a speech at the 2019 Global Women Deliver Conference in Vancouver, Canada.

The 10-year-old girl who was listed alongside world leaders and other influential figures urged parents to plan the future with children in mind.
"Allow we the young ones to tell you our needs, wants and the challenges we face regarding quality education, good health and gender equality.
"Clarify what we say so you can understand what happens around us and deal with things around us because the future of our generation is what we do today" she added.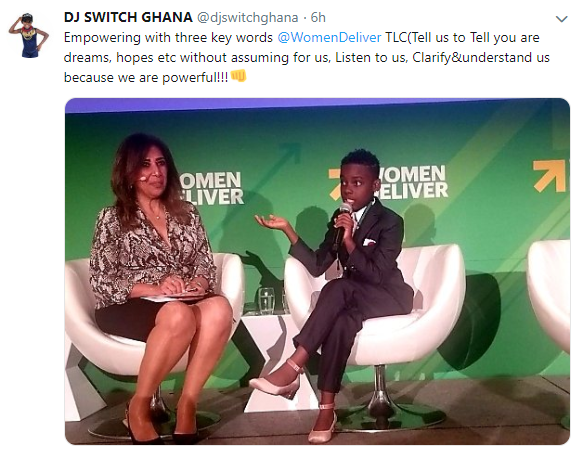 The Global Women Deliver Conference is the world's largest conference on gender equality and the health, rights, and wellbeing of girls and women. It brought together some over 8,000 world leaders and players in the academic fields as well as various change-makers.
This year's Conference focused on the key role of power for progress and change, how power operates at three levels: individual power, structural power and the power of movements.
At just 10 years old, DJ Switch has gained global fame for her talents behind the DJ booth. She hails from Suaman Dadieso in the western region of Ghana.
She has already won a number of national accolades and diversified her act, also venturing into music alongside her mother.
Her talents have seen her share podiums with various influential people, including Billionaire Bill Gates, who invited her to perform and speak at his annual Goalkeepers Conference in New York for the 2018 edition.
READ ALSO: