Kanye West has blamed his pornography addiction for the breakup of his family.
The billionaire rap mogul embarked on another Instagram rant on Thursday (September 1), which saw him take aim at adidas CEO Kasper Rørsted, Gap, Kid Cudi and Pete Davidson, among others.
During his posting spree, Kanye admitted "pornography destroyed my family" while sharing a screenshot of a video of Victoria Villarroel, a former assistant to Kylie Jenner, the half-sister of his ex-wife Kim Kardashian.
"Don't let Kris make you do playboy like she made [Kylie] and Kim do," he wrote, referencing the sisters' respective Playboy magazine shoots that were reportedly orchestrated by their mother Kris Jenner.
He added: "Hollywood is a giant brothel Pornography destroyed my family I deal with the addiction instagram promotes it Not gonna let it happen to Northy and Chicago.''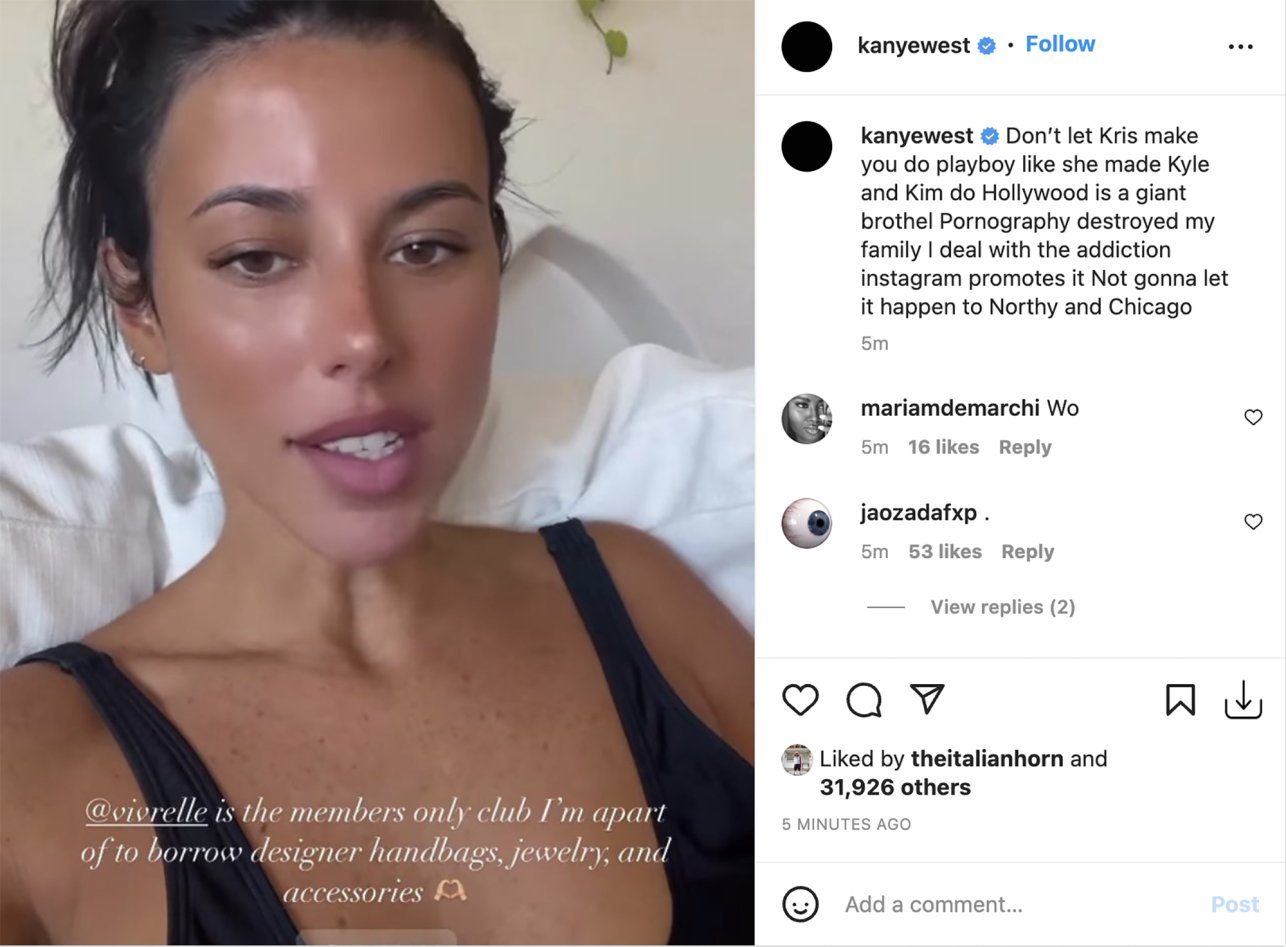 Kanye West previously opened up about his porn addiction during an interview with Zane Lowe in 2019, admitting it has played a major role in his life since he was a child.
"For me, Playboy was my gateway into full-on pornography addiction," he said. "My dad had a Playboy left out at age five and it's affected almost every choice I made for the rest of my life."
In 2018, the Chicago rap icon took his hobby one step further by creative directing and performing at the inaugural Pornhub Awards in Los Angeles. West and his creative company DONDA designed "bespoke erotica-inspired statues" in the shape of dildos for each winner.
Ye has even alluded to dabbling in producing homemade porn himself. "Then me and wifey make a movie," he rapped on The Life of Pablo track "30 Hours," while he revealed on "Real Friends" that one of his cousins blackmailed him for $250,000 over a stolen laptop that he was "fuckin' bitches on."
His ex-wife Kim Kardashian is no stranger to porn herself having catapulted to fame in 2007 following a leaked sex tape starring herself and then-boyfriend Ray J.
Kanye and Kim are currently entangled in a protracted divorce, which was filed by the reality TV star in February 2021 after seven years of marriage. The former couple share four children together: North, Saint, Chicago and Psalm.
Kanye West's Instagram post appeared to be in reference to an argument between him and Kardashian about where their children go to school. The rapper was adamant about his kids enrolling at his Donda Academy and not Sierra Canyon School, the private school where Kylie and Kendall Jenner, among other celebrities, attended.
"They teach black kids Kwanzaa at Sierra Canyon. What the fuck is Kwanzaa and who made that bullshit up," he wrote in another post, referencing the African-American holiday. "Everyone lives in LA for the check anyway so no one really cares about their children being indoctrinated."
In another post, Ye added: "I was driven crazy before. I'm not going crazy no more. It's not up to Calabasas or Hulu where my kids go to school. I'm not the crazy one here. It's up. I won't stop until I have a say on my kids no matter what it legally takes."
Credit:hiphopdx