Reggae-dancehall artiste Stonebwoy has apologized for his brawl with Shatta Wale at the Vodafone Ghana Music Awards in the early hours of Sunday, 19 May 2019.

The feud led to Stonebwoy pulling a gun on stage in an incident that many stakeholders of the industry have condemned.
In a statement signed by the BhimNation CEO, he apologized to Ghanaians and to Vodafone Ghana for the issue which he termed as a 'low moment' and promised such an incident would not occur again.
Below is the statement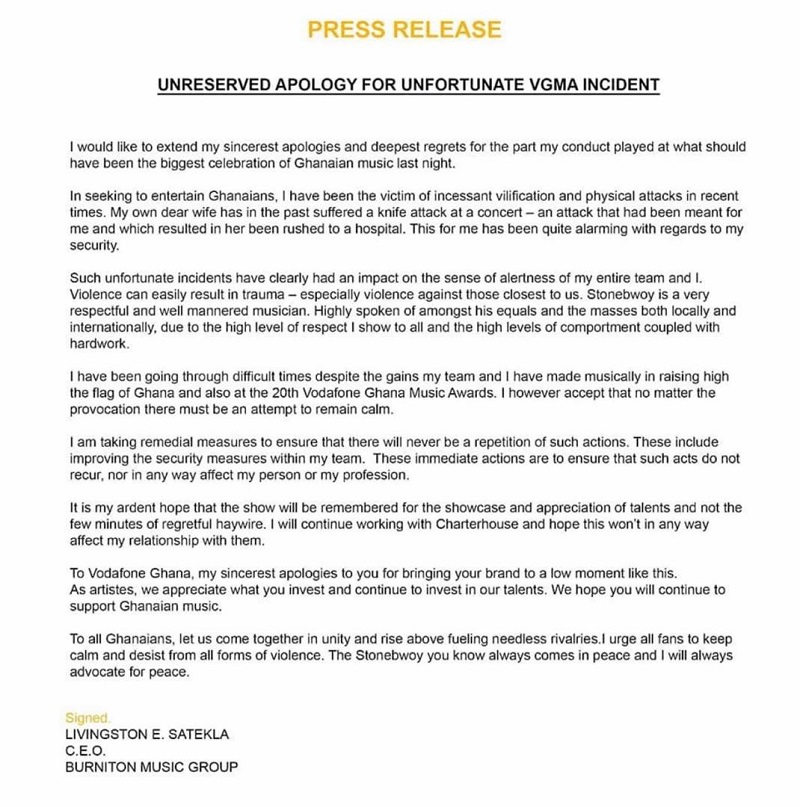 Background
Stonebwoy was involved in a brawl with his rival Shatta Wale. 
The brawl occurred when Stonebwoy went on stage to receive his award for Reggae/Dancehall Artiste of the Year and Shatta Wale and his team tried to get up on stage.
They were prevented by Stonebwoy's team which led to a free for all fight and even saw Stonebwoy wield a gun on the stage. This also delayed the programme, which had been going okay for some minutes to ensure calm was restored.
Although full details are yet to emerge, some say Shatta Wale wanted to congratulate Stonebwoy for the award while some say he wanted to go on stage to protest his rival's win.
READ ALSO: