Stonebwoy has quashed media claims that he was arrested by the Ghana Police Service after pulling out a gun at the Vodafone Ghana Music Awards (VGMA) 2019.
Stonebwoy was involved in a brawl with his rival Shatta Wale.
The brawl occurred when Stonebwoy went on stage to receive his award for Reggae/Dancehall Artiste of the Year and Shatta Wale and his team tried to get up on stage.
They were prevented by Stonebwoy's team which led to a free for all fight and even saw Stonebwoy wield a gun on the stage. This also delayed the programme, which had been going okay for some minutes to ensure calm was restored.
Although full details are yet to emerge, some say Shatta Wale wanted to congratulate Stonebwoy for the award while some say he wanted to go on stage to protest his rival's win.
Many then reported he had been picked up by the police but he has denied that in a tweet and thanked the police service for restoring calm when the incident happened.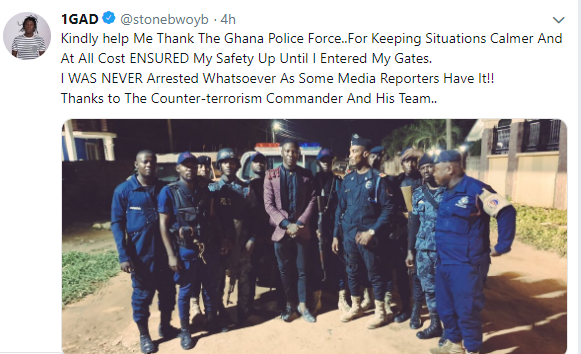 READ ALSO: