Samuel Okudzeto Ablakwa Member of Parliament for North Tongu has showered praises on President Akufo-Addo for announcing that there will be a special dispensation to evacuate Ghanaians stranded abroad despite Ghana's border closure.
The President in his 10th address to Ghanaians on COVID-19 announced that Ghana's borders has been closed indefinitely but there are plans to bring back Ghanaians stranded abroad.
This got Ablakwa delighted because the Minority which he is part have championed the course to bring all Ghanaians stranded abroad due to COVID-19 back.
READ ALSO: Ghana's borders remain closed until further notice - Akufo-Addo
He took to Facebook and wrote: "I am glad President Akufo-Addo has finally given the green light for the evacuation of stranded Ghanaians as I have long advocated.

Government must always be responsive to the plight of citizens.

Better late than never.

#COVID19ShallBeDefeated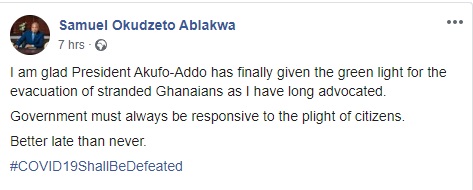 The closure of borders expired on May 31, 2020, but the President announced it remains closed indefinitely.
"Our border, by air, land and sea, remains closed until further notice for human traffic. However, given that there are Ghana residents stranded abroad, special dispensation is going to be given for their evacuation back to Ghana, where they will be subjected to the mandatory quarantine and safety protocols."
Ghana's case count of the novel COVID-19 has risen to 8,070. The recoveries have also increased to 2,947.
This was announced by President Akufo-Addo in his televised address to the nation on Sunday, May 31, 2020.