The Ghana Association of Certified Registered Anaesthetists has withdrawn its services in the Tamale Teaching Hospital (TTH).
They have joined other Doctors and Nurses in the hospital who on Tuesday, August 14, 2018, declared an indefinite strike action following the attack on the Chief Executive Officer of the Hospital, Dr. David Zaawumya Kolbi.
A statement released by the Anesthetists has described the hospital is unsafe for work, hence they are therefore calling for the CEO of the hospital to be restored, the persons involved in the attack to be arrested, and prosecuted and for security at the health facility to be beefed-up.
Read Also: Nurses and Doctors of Tamale Teaching hospital declare an indefinite strike action
Four suspects arrested
Meanwhile, at least four young men were reported to have been arrested by police in Tamale over the attack on the hospital. According to the Public Relations Officer of the Northern Regional Police Command, DSP Yussif Tanko, that the police arrested the four persons in a swoop at Aboabo community in Tamale.
 Four suspects released
However, the four persons arrested in connection with an attack on the Chief Executive Officer of the Tamale Teaching Hospital (TTH) on Monday have been released.
Police in the Northern Region Capital, Tamale, explain they are unable to establish any evidence that the four suspects were involved in the attack.
 Read the full statement below.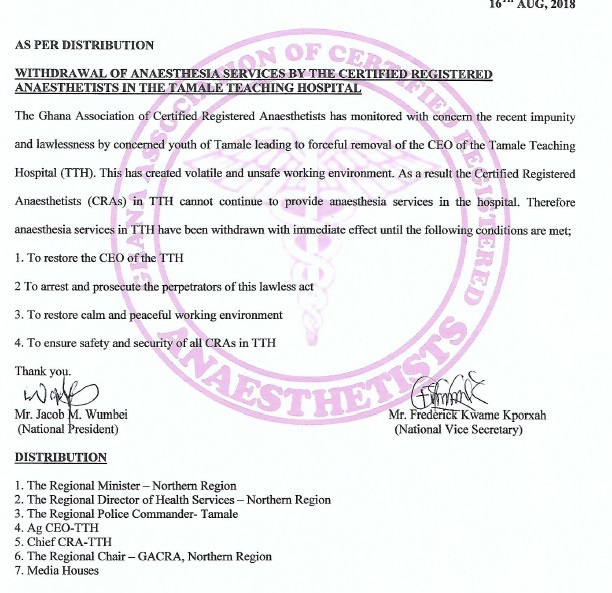 Read Also: Irate NPP youth, Kandahar Boys chase out Tamale Teaching Hospital CEO