Asantehene, Otumfuo Osei Tutu II was born on May 6, 1950 and he is the 16th ruler of the Ashanti Kingdom in Ghana since April 26, 1999.
His stool name Otumfuo Osei Tutu II is in direct succession to the founder of the Ashanti Empire Otumfuo Osei Tutu I.
Otumfuo Osei Tutu II's real name is Nana Barima Kwaku Dua, and he is the youngest of the five children of late Ashanti Queen Nana Afia Kobi Serwaa Ampem II, Asantehemaa.
Otumfuo Osei Tutu II's name at birth, Nana Barima Kwaku Dua, is the name of his paternal grandfather.
His father Nana Kwame Boakye-Dankwa was from Kantinkyere in Ashanti and was also the Brehyia Duke of Ashanti. Nana Kwame Boakye-Dankwa died on 1 January 2002, in Kumasi, Ashanti.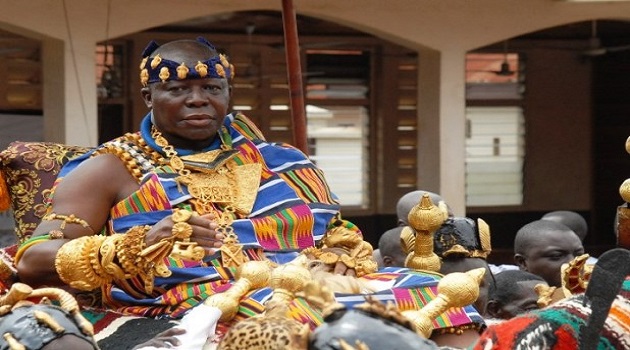 His father had children from other marriages, including Yaw Boateng, Kwaku Duah, Kwabena Agyei-Bohyen, Afua Sarpong and Ama Agyemang. Others include Fredua Agyeman Prempeh, Nana Kwasi Agyemang Prempeh and Nana Kwasi Boachie Gyambibi all of Kumasi, Ashanti.
Otumfuo Osei Tutu II had his "O"-level education at Sefwi Wiawso Secondary School and had his 'A' Level at Osei Kyeretwie Secondary School.
Nana Kwaku Dua now Otumfuo Osei Tutu II moved to Accra to begin an accountancy course at the Institute of Professional Studies, Legon, in 1971. In 1973, he proceeded to the United Kingdom (UK) where he studied first at Kilburn Polytechnic before enrolling at the University of North London for a Diploma in Public Administration.
Nana Kwaku Dua now Otumfuo Osei Tutu II became a member of the Institute of Personnel Management in the UK in 1985. Nana Kwaku Dua now Otumfuo Osei Tutu II worked as a finance officer at the Food Processing Company, Oxo in London and as a Personnel Administrator at the Manpower Services Commission attached to Brent Council.
In 1980, he moved to Canada and worked for a year as a senior consultant with the Mutual of Omaho Insurance Company of Toronto; he then participated in a company-sponsored course in insurance at the University of Toronto.
Nana Kwaku Dua now Otumfuo Osei Tutu II returned to Ghana in 1989 to set up his own business—Transpomech International (Ghana) Limited—of which he remains the Executive Director. 
He graduated in Philosophy with a first-class degree and degree of Doctor of Philosophy, conferred at a ceremony at the Barbican Centre on 11 January 2006.
Otumfuo Osei Tutu II The Asantehene is highly revered in the Kingdom of Ashanti (Ashanti Region).
Otumfuo Osei Tutu II has frequently commented on the work of Ghanaian politicians.
Otumfuo Osei Tutu II received international media attention after some of the Ashanti crown jewels were allegedly stolen from an Oslo hotel in October 2012 when he was attending a conference in the Norwegian capital.