Floods are mostly triggered by seasonal rainfall combined with poor drainage, the dumping of waste into waterways and the low elevation of settlements.
Recently, the country has seen some heavy downpours leaving some areas flooded and causing the death of some Ghanaians. During heavy rainfall, it's difficult for motorists to drive which leaves them with no other option than to park at safe places until the rains are over. 
Some flood-prone areas in Accra are Sakaman, Kamara Down, Atico Bridge, Abolo-Junction, Mataheko, Atico Junction, Kaneshie Lorry Station Areas, Portions of East Legon, Zamariama Line, Banana Inn, Abelenkpe, some parts of Dzorwulu, Sukula, Russia, Bawaleshie, Airport Residential, Glefe, Mpoase, Dansoman, Odawna(Kwame Nkrumah Circle).
Flooding in the capital is mainly caused by poor planning of towns and cities, poor drainage systems, improper disposal of refuse, silting and choked drains, improper enforcement of laws on building construction and sanitation. 
The Works and Housing Minister Samuel Atta Akyea says the Odaw River will be dredged before the raining season begins in June.
Also, the Minister of Interior Ambrose Dery says his outfit will collaborate with the Works and Housing Ministry to address the perennial flooding in the country.
According to him: ''The fact that lives has been lost, we want to express our condolences to the bereaved families and we would like to assure that we would do whatever we can to assist the situation. We are working with the Ministry of works and housing about the areas that get flooded and we will do our best to see what we can work out.''
Meanwhile, the National Disaster Management Organization, NADMO has adviced Ghanaians to take precautionary measures during heavy rains.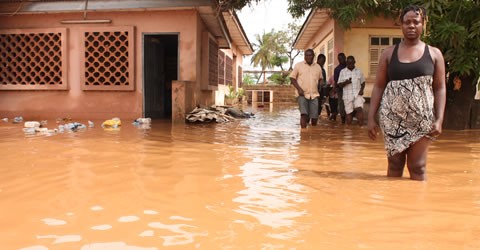 Also, the Ghana Meteorological Agency has warned of a heavy downpour as the rains emerge in the coming days.
READ ALSO:
Visit primenewsghana.com for more Latest news in Ghana