The government of Ghana has backed the Economic Community of West African States (ECOWAS) to speed up the processes of adopting Eco as a single currency for member States.
The government in a release said it welcomes the decision to use Eco and that this will remove trade and monetary barriers, reduce transaction costs, boost economic activity, and raise the living standards of Ghanaians.
There, therefore, urged the West African Economic and Monetary Union (UEMOA) to work rapidly towards implementing the decision.
READ ALSO: ECOWAS finally adopts ECO as single currency
ECOWAS announced earlier this year that beginning January 2020, countries within the West African sub-region will be able to use a single currency called ECO.
The West African leaders endorsed the currency at their 55th Ordinary Session and approved a road map towards the currency's issuance in January 2020.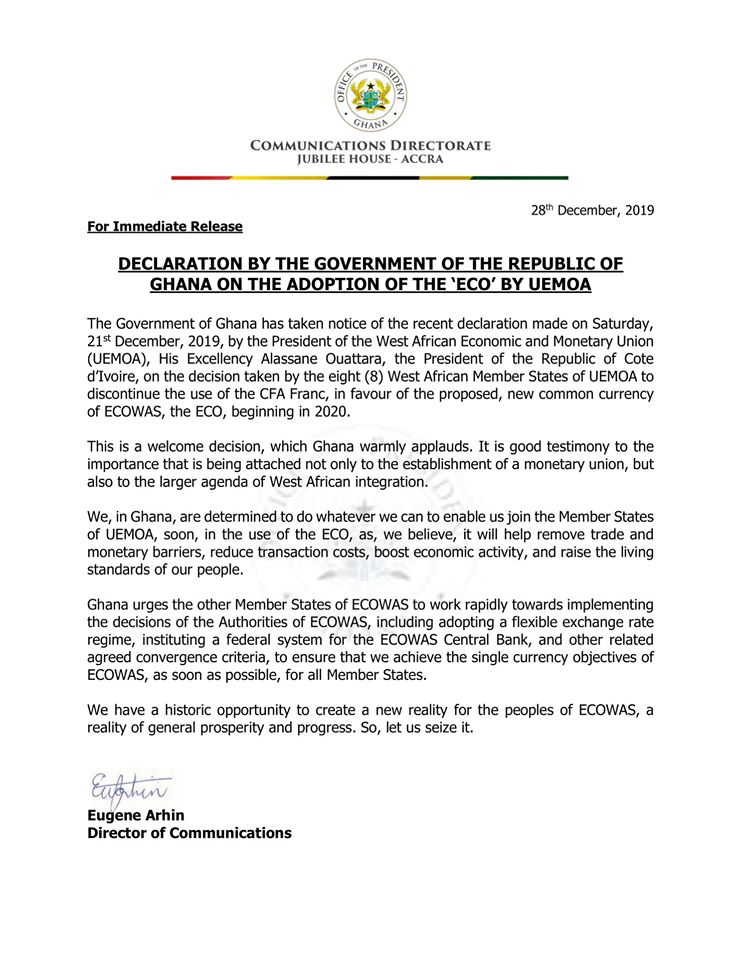 ECOWAS has a combined population of 385 million and was set up in 1975.
It comprises Benin, Burkina Faso, Cape Verde, Gambia, Ghana, Guinea, Guinea-Bissau, Ivory Coast, Liberia, Mali, Niger, Nigeria, Senegal, Sierra Leone and Togo.
Eight of these countries use one currency called the CFA franc. Those are Benin, Burkina Faso, Guinea-Bissau, Ivory Coast, Mali, Niger, Senegal and Togo.
The current decision to adopt one currency is similar to the move made by the European Union to adopt a single currency called Euro.
Eco
The Eco is the proposed name for the common currency that the West African Monetary Zone plans to introduce in the framework of the Economic Community of West African States. After its introduction, the goal is to merge the new currency with the West African CFA franc at a later date.