Vice President Dr Mahamudu Bawumia has donated some money to support flood victims in West Mamprusi district in the North East Region.
This was after nearly 700 residents in some communities were displaced by torrential flooding that has wreaked havoc in the area.
Residents in some four communities in the North East Region were forced to evacuate on October 1, following a heavy downpour.
Dr Bawumia who was on tour in the Greater Accra Region cut short his tour and headed to the area to make the donation.
READ AlSO: Gov't won't sit and negotiate with 'criminal' Western Togoland group - Dr Bawumia
Addressing the people of the area, he assured them that once the rains stop, the government will assist them to build houses that can withstand heavy rains.
"I heard about this disaster and had to cut short my campaign to see for myself what has happened. The heavy rainfall has caused the collapse of many buildings and many of these buildings were built with mud so the force of the water caused them to break and you have people displaced. NADMO has acted quickly and brought some items including food, mattresses, buckets and mosquito coils for the sustenance of people for now. We are also adding One hundred thousand Ghana Cedis so that the food items required more will be purchased and by the grace of God when the rain stops we will help them to build better houses to withstand flooding"
The rains have destroyed properties running into thousands of cedis and rendered many homeless.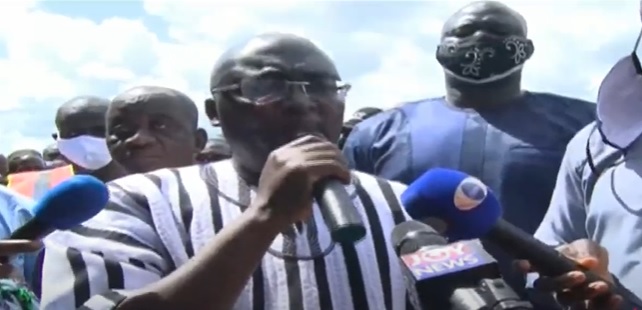 Dr Bawumia speaking to residents of West Mamprusi
Two dams at Dimia and Guabluga also burst when the rains began which worsened the situation.
Rising water levels inundated the communities sparking chaos as panicked residents ran helter-skelter to salvage what was they could.
The situation also caused the main Walewale-Nalerigu road to submerge, leaving a never seen traffic on the busy highway with dozens of travelers and motorists stranded.