President Akufo-Addo has now commented on the recent floods that claimed some 10 lives in Accra after receiving several backlashes from a section of Ghanaians after sending condolence messages to France following the fire at the Notre-Dame cathedral.
The President on April 15, 2019 after fire razed down the Notre Dame cathedra took to Twitter and posted :The Ghanaian people and I are shocked by the news of the destruction of the great Parisian Cathedral, Notre Dame, one of the most iconic buildings of world civilization and extend our heartfelt condolences to President @EmmanuelMacron and to the French people on their great loss.

Our thoughts are with them, and we are hopeful and prayerful that efforts to save what is left of this historic Cathedral will be successful. @EmmanuelMacron

These messages did not go down well with some people who criticised the president for turning a blind eye to what happened during the recent floods.
Some said he was meddling in matters that do not concern him and the people of Ghana.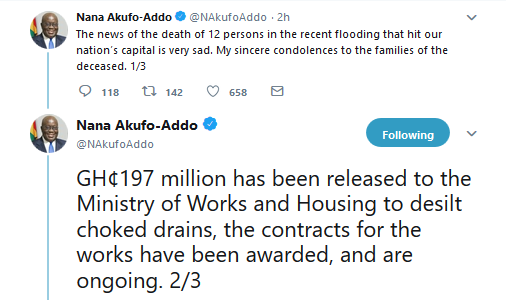 This seems to have made an impact as he has now sent out a condolence message to the flood victims. He tweeted: "The news of the death of 12 persons in the recent flooding that hit our nation's capital is very sad. My sincere condolences to the families of the deceased," the President said.
He also noted some of the government interventions to counter the flooding that claimed the lives.

"GH¢197 million has been released to the Ministry of Works and Housing to desilt choked drains, the contracts for the works have been awarded, and are ongoing."

"Beyond addressing issues of infrastructure, our attitudes towards sanitation have to change as well, in order to help tackle the problem of the perennial flooding in Accra. Every effort is being made by the public authorities to deal with this problem," he added.
But these condolences are likely to be too late for the Ghanaians who were upset at the President's prioritisation of tragedies from foreign countries amid Ghana's pressing challenges.
Read also:
visit primenewsghana.com for Ghana News