German automaker Volkswagen, shortened to VW, have revealed the starting price for their cars assembled in Ghana.
The global automobile giant, Volkswagen, signed a Memorandum of Understanding (MoU) with the government of Ghana in 2018 to begin the process of establishing an assembling plant in the country to serve the West African sub-regional market.

In March this year officials of the company took some Ghanaian government officials round their assembling plant in Accra.
READ ALSO: MMDAs ordered to buy locally-assembled vehicles
The assembling plant in Accra is expected to produce about 5,000 units of vehicles every year with plans to increase production depending on the market demand.
A planned official launch of the plant was called off due to the outbreak of the coronavirus at the time but it hasn't stopped work from going on.
This is the first phase of the company's operations in the West African nation, as it plans to expand across Africa.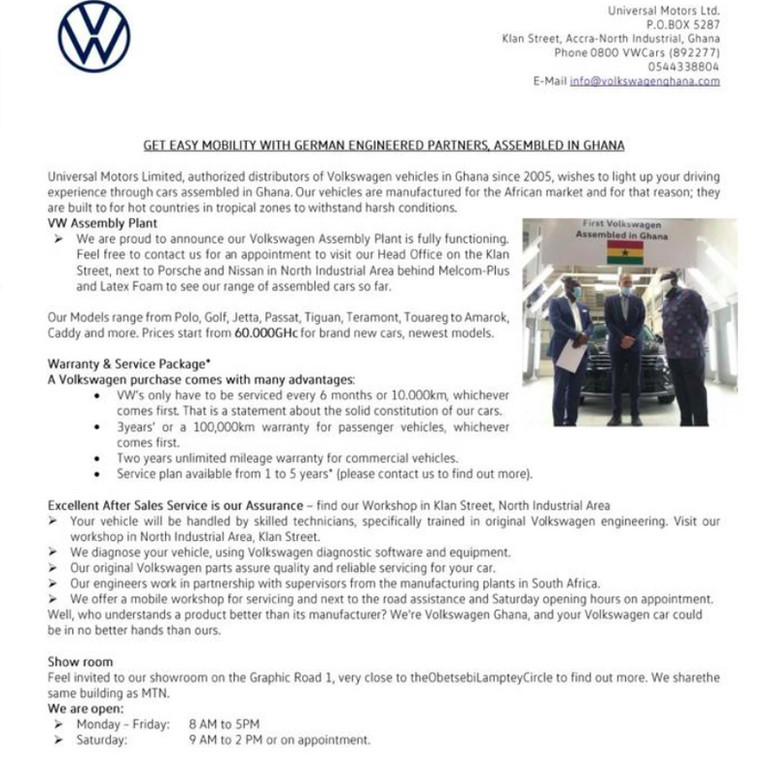 A proposal from Universal Motors Limited, the authorized distributors of VW in Ghana noted that "our models range from Polo, Golf, Jetta, Passat, Tiguan, Teramont, Touareg, etc."
"Prices start from GHC60, 000 for brand new cars, newest models," the proposal to Standbic bank read.
The document also added that the purchase of a VW car assembled in Ghana comes with a warranty and service package like two years unlimited mileage warranty and service plan available from 1 to 5 years.