Mrs Elsie Awadzie who is the 2nd Deputy Governor of the Bank (BoG) of Ghana says they have no power to intervene in the current Menzgold saga.
Customers of Menzgold have had a torrid time trying to retrieve their locked up cash at the embattled gold dealership firm.

Several aggrieved customers have shouldered blames on the Bank of Ghana for not intervening in the current saga but Mrs Awadzie says even though the situation is unfortunate, the BoG did not regulate the activities of Menzgold and that gives them no power to intervene.
She added that, the BoG issued several warnings to customers of Menzgold to discontinue work with the firm and as far as they are concerned they did their job.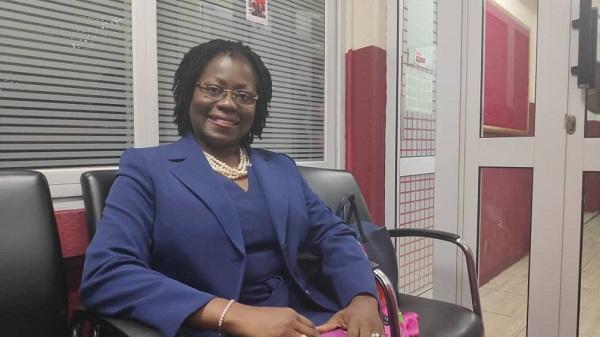 Mrs Elsie Awadzie 2nd Deputy Governor of the Bank (BoG)
"BoG has been very clear that Menzgold was an unlicensed institution and that people did business with them at their own risk"
"With Menzgold, there was no visibility at all. As far as we are concerned, we had issued enough warnings. We did our job".
"BoG has no power to intervene in the Menzgold issue. We did not regulate them, and we had nothing to do with them. We have no power to intervene," she spoke in an interview on the Joy Super Morning show
Several protests have been staged by customers of Menzgold in a bid to retriev their cash but that has proved futile.
The latest demonstration was staged today January 8, 2019 in Kumasi.
Background

Menzgold was asked to suspend its gold trading operations with the public by the Securities and Exchange Commission (SEC).

According to the SEC, Menzgold has been dealing in the purchase and deposit of gold collectibles from the public and issuing contracts with guaranteed returns with clients, without a valid license from the Commission.

This, the SEC said this was in contravention of "section 109 of Act 929 with consequences under section 2016 (I) of the same Act."

The company was however cleared to continue its "other businesses of assaying, purchasing gold from small-scale miners and export of gold."
Despite initial protests, Menzgold complied with the directive. It has however failed to fully pay its numerous aggrieved customers the value on their gold deposits as well as their entire investments.
The Securities and Exchange Commission (SEC), has said it will be keeping a close eye on Menzgold Company Limited's online ventures.

Menzgold Ghana is set to launch an online gold store, a buying and selling market platform, known as Menzgold Global Market on Monday.

While it remains unclear how the company will be operating online, the SEC said it will intervene if it determines Menzgold is working within its purview.

"We have also picked signals in public on the issue about an online business. We are monitoring. As long as it offends our legal or regulatory regime, we will come into play," the Head of Legal and Enforcement at SEC, Nii Oman Badoo said at a press soirée.
Read also: Menzgold saga: Customers in Kumasi stage demo