Last month movies lit our TV screens with the best of entertainment from US, Captain Marvel,Dumbo,Sharzam and many more but here are some of the films that will be released this month.
1. Little
LITTLE SYNOPSIS
RELEASE DATE:
Girls Trip's Regina Hall and Black-ish's Marsai Martin both star as Jordan Sanders — Hall as the take-no-prisoners tech mogul adult version of Jordan and Martin as the 13-year-old version of her who wakes up in her adult self's penthouse just before a do-or-die presentation.
Insecure's Issa Rae plays Jordan's long-suffering assistant April, the only one in on the secret that her daily tormentor is now trapped in an awkward tween body just as everything is on the line. Little is an irreverent new comedy about the price of success, the power of sisterhood and having a second chance to grow up — and glow up — right.
Will Packer, blockbuster producer of Girls Trip, the Ride Along franchise, and ten movies that have opened No. 1 at the U.S. box office, including Night School, No Good Deed and Think Like a Man, brings an all-new perspective to the body-swap comedy.
Little is directed by Tina Gordon (writer, Drumline) with a story by Tracy Oliver (Girls Trip) and a screenplay by Oliver and Gordon, based on an idea by teen actress Martin. The film is produced by Packer and his producing partner James Lopez and by Kenya Barris (Girls Trip, Black-ish), and is executive produced by Preston Holmes (Night School), Hall, Marsai Martin and Josh Martin.
 
2. The Perfect Date

THE PERFECT DATE SYNOPSIS
RELEASE DATE:
Brooks Rattigan (Noah Centineo) has the academic chops to get into his dream Ivy League school, but what he's missing is an outstanding extracurricular — and the money. When he seizes on an opportunity to make some extra cash by posing as the boyfriend of a self-assured, combat boot-loving girl named Celia Lieberman (Laura Marano), he finds he has a knack for being the perfect stand-in. Together with his programmer friend Murph (Odiseas Georgiadis), Brooks launches an app selling himself as a plus-one for all occasions. Along the way, he meets the girl of his dreams (Camila Mendes). But when business starts to boom, Brooks must reassess everything he was once sure of.
 
3. The Best of Enemies
Enemies centers on the unlikely friendship between Ann Atwater (Henson), an outspoken black activist, and Claiborne Paul Ellis (Rockwell), a ranking member of the Ku Klux Klan, both of whom lived in Durham, North Carolina, in the 1960s turbulent civil rights era.
RELEASE DATE:
 
4. Avengers: Endgame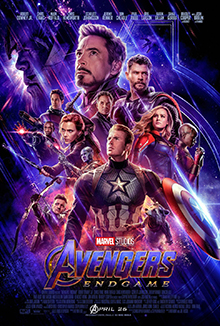 RELEASED DATE:
In Avengers: Endgame, also known as Avengers 4, adrift in space with no food or water, Tony Stark sends a message to Pepper Potts as his oxygen supply starts to dwindle. Meanwhile, the remaining Avengers -- Thor, Black Widow, Captain America and Bruce Banner -- must figure out a way to bring back their vanquished allies for an epic showdown with Thanos -- the evil demigod who decimated the planet and the universe.
 
5. After
AFTER SYNOPSIS
RELEASE DATE:
Based on Anna Todd's best-selling novel which became a publishing sensation on fan fiction sharing site Wattpad, After follows Tessa (Langford), a dedicated student, dutiful daughter and loyal girlfriend to her high school sweetheart, as she enters her first semester in college. Armed with grand ambitions for her future, her guarded world opens up when she meets the dark and mysterious Hardin Scott (Tiffin), a magnetic, brooding rebel who makes her question all she thought she knew about herself and what she wants out of life.
 
6. Hellboy (2019)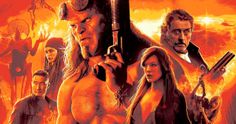 RELEASE DATE:
A Hellboy reboot of Guillermo Del Toro's cult comic book adaptation that will be rated R.
 
7. The Public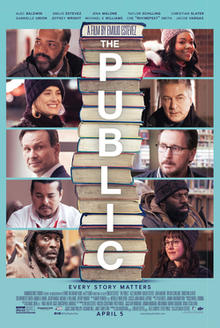 RELEASE DATE:
Ensemble drama inspired by a 2007 LA Times story written by Chip Ward. "The Public" is the nickname given to one of the central characters in the film: The Los Angeles Public Library. The story revolves around the library inhabitants, many of whom are mentally ill, who seek shelter and warmth inside its walls during two of the coldest days in recent memory.
 
8. Teen Spirit 
RELEASE DATE:
Violet (Elle Fanning) is a shy teenager who dreams of escaping her small town and pursuing her passion to sing. With the help of an unlikely mentor, she enters a local singing competition that will test her integrity, talent and ambition. Driven by a pop-fueled soundtrack, "Teen Spirit" is a visceral and stylish spin on the Cinderella story.
 
9. Breakthrough
RELEASE DATE:
When he was 14, Smith drowned in Lake St. Louis and was dead for nearly an hour. According to reports at the time, CPR was performed 27 minutes to no avail. Then the youth's mother, Joyce Smith, entered the room, praying loudly. Suddenly, there was a pulse, and Smith came around.
 
10. The Curse of La Llorona
RELEASE DATE:
Ignoring the eerie warning of a troubled mother suspected of child endangerment, a social worker and her own small kids are soon drawn into a frightening supernatural realm.
 
Credit: movieweb