The flagbearer for the National Democratic Congress (NDC) John Dramani Mahama has cast his ballot.
He voted in his home town in Bole in the Savannah Region.
John Mahama is the main opponent of New Patriotic Party (NPP) candidate President Akufo-Addo.
READ ALSO:Â 2020 Election: Scuffle breaks out at Bukom Park polling centre (video)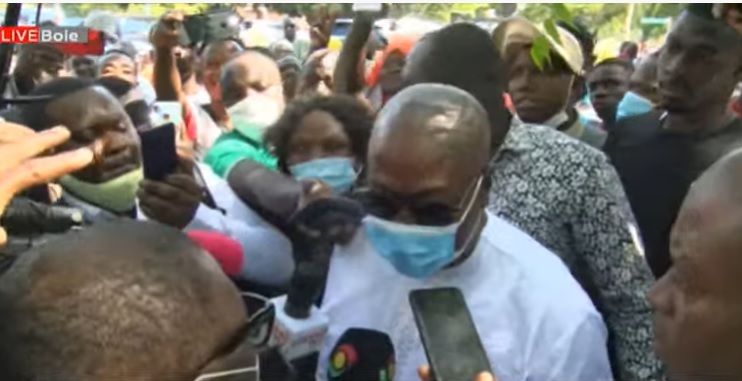 A total of 17,027,655 registered voters are expected to cast their ballot at about 33,367 polling stations across the country.
According to the Electoral Commission (EC), voting will commence at 7am and end at 5pm on the election day.
In all, 12 candidates are on the ballots seeking to be elected as President of Ghana.
They are; Nana Addo Dankwa Akufo-Addo (NPP), John Dramani Mahama (NDC), Christian Kwabena Andrews (GUM), Ivor Kobina Greenstreet (CPP), Akua Donkor (GFP), Henry Herbert Lartey (GCPP), Hassan Ayariga (APC), Percival Kofi Akpaloo (LPG), David Asibi Ayindenaba Apasera (PNC), Brigitte Akosua Dzogbenuku (PPP), Nana Konadu Agyeman Rawlings (NDP) and Alfred Kwame Asiedu Walker, (Independent Candidate).
Meanwhile, the EC has said barring any impediment, it is determined to declare results 24 hours after polls.