A group calling itself Concern Citizens of Okyeman have given former President John Mahama a 2-day ultimatum to apologize for the 'Akyem Sakawa' comment.
John Mahama on August 31, 2020, shared a post by Member of Parliament for Bolgatanga Central Isaac Adongo concerning the controversial Agyapa Royalties deal.
In the post, he said the Agyapa Royalties deal is a big fraud on Ghana by President Akufo-Addo and his Akyem Mafia.
The description has not gone down well with the Akyem group who today September 9, 2020, demonstrated against what they described as an endorsement of ethnocentric comments by the NDC flagbearer.
The protestors who are made up of natives from the three Akyem States, Abuakwa, Bosome and Kotoku were clad in red and with placards which some read "NDC where are your polices' No more tribalism" among others.
They have threatened to ban the NDC from campaigning on any Akyem land if Mahama does not apologize.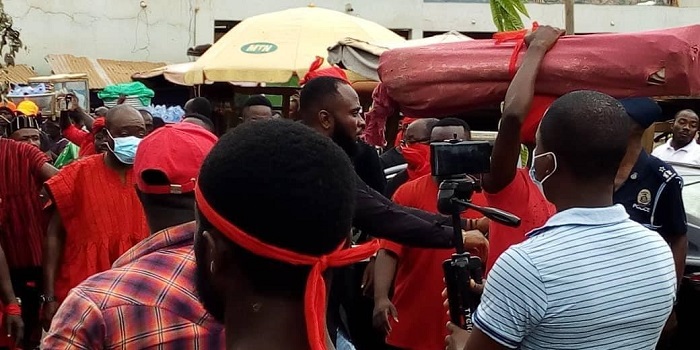 Archibald Ntiriakwa, the president of Okyeman Youth Association and one of the convenors of the demonstration called on Mr. Mahama to retract and apologise in his own interest.
The Anum Asokwahene, Barima Asuokwasi Mensah Bediako Ill, also gave the former President and the NDC an ultimatum apologise or be banned from campaigning on Akyem lands.
"We are all one before individuals… we don't want politics that emphasises our differences and where we come from."
"We are not doing politics here. What is paining me is that the Chairman of the NDC is from Akyem land," the Anum Asokwahene stated.
Last month a group calling itself Youth for Emancipation also gave Mahama a 48-hour ultimatum to withdraw the statement but that never materialised.
President Akufo-Addo has also come out to condemn the statement and called on Civil Society Organizations to speak against the comment.
Mahama responding to Akufo-Addo said he has no moral rights to condemn the comments.