Stephen Ntim, Four-time failed NPP National Chairman Aspirant, says his latest defeat at the party's 26th National Delegates Conference in Koforidua on Saturday, 7 July, can discourage the youth in the NPP.
Freddy  Worsemawu Blay beat Stephen Ayensu Ntim by polling 3021 votes as against Stephen Ntim's 2515 votes at Saturday's national delegates conference in Koforidua.
According to Stephen Ntim, he has being a long-standing member of the NPP before Freddy  Worsemawu Blay joined the ruling party in 2008 and hence believed that the delegates and the NPP should have rewarded his loyalty by voting him as the National Chairman on his fourth attempt.
Speaking in an interview today July 9, 2018, Stephen Ntim said it was "unfortunate that I had to lose for the fourth time".
"To the younger generation, it might discourage them, that one is a possibility. They want to see that somebody who has been so loyal, committed [and] dedicated is recognised and rewarded accordingly.
"I kept saying during my campaign that if we succeed in rewarding Ntim now, it will serve as a motivation to the younger generation to give off their best in their service to the party," he stressed.
Meanwhile, after the declaration of the election results on July 8, 2018, he stated that his loyalty to the New Patriotic Party (NPP) is unshaken, even though he has not been successful for the fourth time in his attempt to serve the party in the capacity as national chairman.
"First of all, I want to express my sincerest thanks to almighty God for making this day possible. I want to also thank the organisers for this conference and our distinguish delegates for doing what is expected of them,"Stephen Ntim said whilst accepting the results of the elections
"It is rather unfortunate that I have to lose for the fourth time in my attempt to serve the party in the capacity of national chairman."
"However, once again it is a victory for the New Patriotic Party because we have succeeded in electing our new crop of national officers to steer the affairs of the party for the next four years."
"As usual, my loyalty to the New Patriotic Party is not shaken by what has taken place. We can continue counting on Stephen Ntim as usual because it is party first, thank you all very much," he said.
Freddy Blay entered parliament in 1997 on the seat of the Convention Peoples' Party (CPP) as MP for Ellembele constituency and was elected Second Deputy Speaker of Parliament from 1997 to 2001.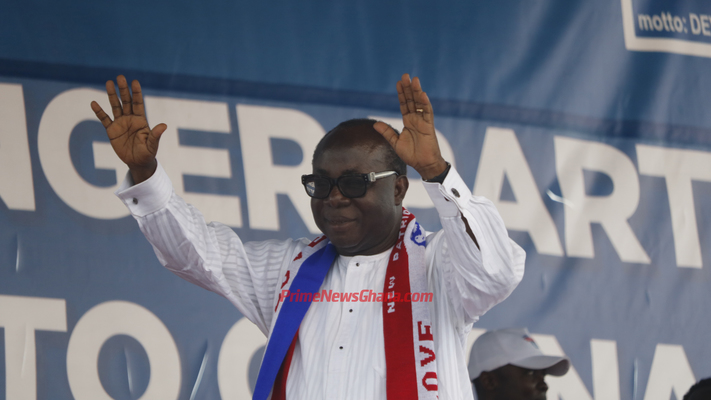 He was elected First Deputy Speaker of Parliament in 2005 under the NPP government of President John Agyekum Kufuor but lost his seat in 2008 to the National Democratic Congress (NDC).
After 11 years in Parliament, he crossed carpet to the NPP in 2008 and has since enjoyed an unlikely rise in the party.
Freddy Blay acted as National Chairman of the NPP from November 2015 to July 6, 2018, after the elected leader, Paul Afoko, was suspended.