"It's the fish man, madam," the day guard said, sticking his head in the office door. "You want to buy fish today?"
I sighed, stepped back away from my desk. I had a deadline. I didn't really have the time to stop and haggle over prices.
"Not today," I said. "Tell him to come next week."
"But he's already here. He wants to see you."
I sighed again and strode impatiently out of the office to the roofed parking lot. Ousmane, the fish seller was there. His dark solemn face was tilted respectfully towards the floor. He wore a torn T-shirt, shorts stained with fish guts and scales, but he had an air of dignity about him. He could have been a painter or artist.
"What kind of fish do you have today Ousmane?"
"Sole and grouper mum."
"Is it fresh?"
"Yes mum."
"Can I see?" I always insisted on inspecting the fish myself -- they had to be firm to the touch, with red shiny gills, clear eyes, no strong smell -- just like my mother taught me. The fish was fine so I bought two kilos. We could cook some tonight and I would put the rest away in the freezer. Ousmane worked quickly, picking up each fish, gutting and scaling smoothly. In less than 10 minutes, he handed me a bag of cleaned and rinsed fish, set on a bag of ice.
"Thanks Ousmane. See you next week," I said after paying him, adding a little extra for his efforts.
He looked downcast, standing with his cap in his hands. He seemed wistful, as though reluctant to get on with his rounds.
"How's your family?" I asked, already on my way back to my office.
"Fine, mum."
"How's your wife?"
"Fine mum."
"How about the children?"
"Fine mum, but the baby was sick."
"Oh you mean the last one. How old is he now?"
"He's about two."
"So what's up is he better now?"
"Well mum he started a temperature about two nights ago. My wife bathed him and tried to feed him but his fever wouldn't come down. Malaria we think. We tried all we could but then he started to go limp and so we took him to the nurse down the street. You see I didn't have any money Madam. I didn't sell fish that day."
"So then what did you do Ousmane?" I demanded, beginning to feel a slight sense of irritation. Why didn't he -- these people -- understand that you couldn't mess around with a young child with a high temperature. You had to take him to the doctor immediately.
"Well she said we had to take him to hospital but we didn't have any money so we brought him home."
I shifted uneasily.
"What do you mean by brought him home Ousmane. Why didn't you come to the office and ask me for money?
"It was too late mum. Very late at night so the office was closed."
"So then what? Couldn't you ask a neighbour?"
"Where is he now?"
"He died last night, mum."
My heart felt like a stone. My lips trembled.
"What? Ousmane. What! Are you sure? Where is he?"
"We buried him this morning mum. We are Muslims so we have to perform the burial within twenty-four hours."
Ousmane's eyes had not left the floor.
I stood still in shock.
The fish seller was here selling fish after burying his youngest child at dawn. My three-year-old lay asleep at home, surrounded by soft toys. I had even given some of his old baby clothes to Ousmane last year and had just readied a new batch of barely used clothing to give him. I thought of how panicked I became when my baby even had the slightest rash, or the state I was in when he had to be hospitalised, a few months ago. What would I do if..? I simply couldn't bear to carry the train of thought further.
"I'm sorry Ousmane," I stammered. "Here, take this as payment for all the rest of the fish. Go home."
The short story was published here with the kind permission of the Writers Project of Ghana. The original article can be found here.
~*~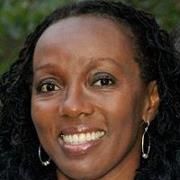 The writer, Amba Mpoke-Bigg, is a strategic communications expert who most recently served as deputy head of a U.N. public information support team in Somalia. Working under constant threat of terrorist attack, she managed a large international team providing communications and media strategies for the UN and the AU. Amba has worked as a consultant for UNICEF and UNAIDS. She was West Africa Bureau Chief for Dow Jones Newswires and a correspondent for the Associated Press. She is passionate about telling women's stories.