The Normalisation Committee have held a meeting on September 26, 2018 with the Ghana League Clubs Association(GHALCA) over the resumption of football.
Football activities were halted in June this year following an expose by Anas Aremeyaw Anas which showed some corrupt acts in Ghana football.
The league and any other competitions in the country have been halted but the new appointed Normalisation Committee after their meeting with GHALCA are looking at bringing the game back.
Press Statement
The Normalisation Committee and the Ghana League Clubs Association (GHALCA) met on 26th September 2018 to discuss the way forward for Ghana Football.
Both parties recognize the need to resume football activities in Ghana and most especially the welfare of players.
The meeting unanimously agreed on the development of a Competition. Once developed, details will be announced.
Both parties wish to reassure football loving Ghanaians that their game will be back with the excitement and professionalism that it deserves.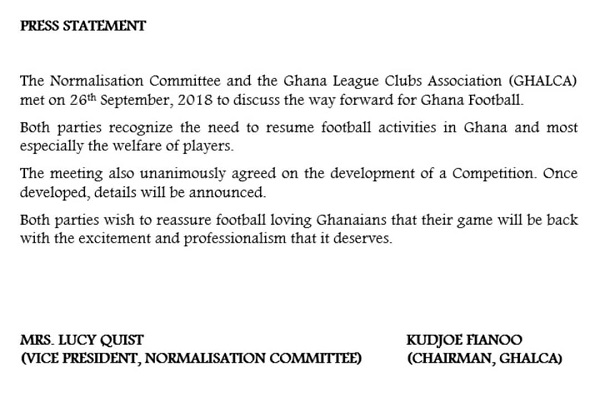 The date for the resumption of official football activities will be announced later by the Committee.