Ministry of Youth and Sports have appointed President of African Paralympic Committee Samson Deen to serve as a member of LOC for the 2023 African Games. 
Samson Deen will join the 9 other members who have been sworn into office to steer Ghana's preparations towards a successful hosting of the 13th African games.
READ ALSO: 2023 African Games: Mustapha Ussif inspects Legon, Borteyman construction sites again (photos)
The committee is chaired by an experienced sports broadcaster, Dr. Kwaku Ofosu-Asare.
The other members of the committee are the Technical Advisor on Sports at the Ministry of Sports, Dr. Emmanuel Owusu-Ansah; a former Olympian and sports events organiser, Mr. Reks Brobby; a clinical psychologist and lecturer, Dr. Mrs. Beatrice Dwumfour Williams; a sports journalist, Mr. Dan Kwaku Yeboah; Communication Consultant to the Ministry of Youth and Sports, Mr. Ahmed Osumanu; President of the Ghana Olympic Committee, Mr. Ben Nunoo Mensah; a sports journalist and lawyer, Ms. Eva Okyere, and a sports administrator, Ms. Joyce Datsa.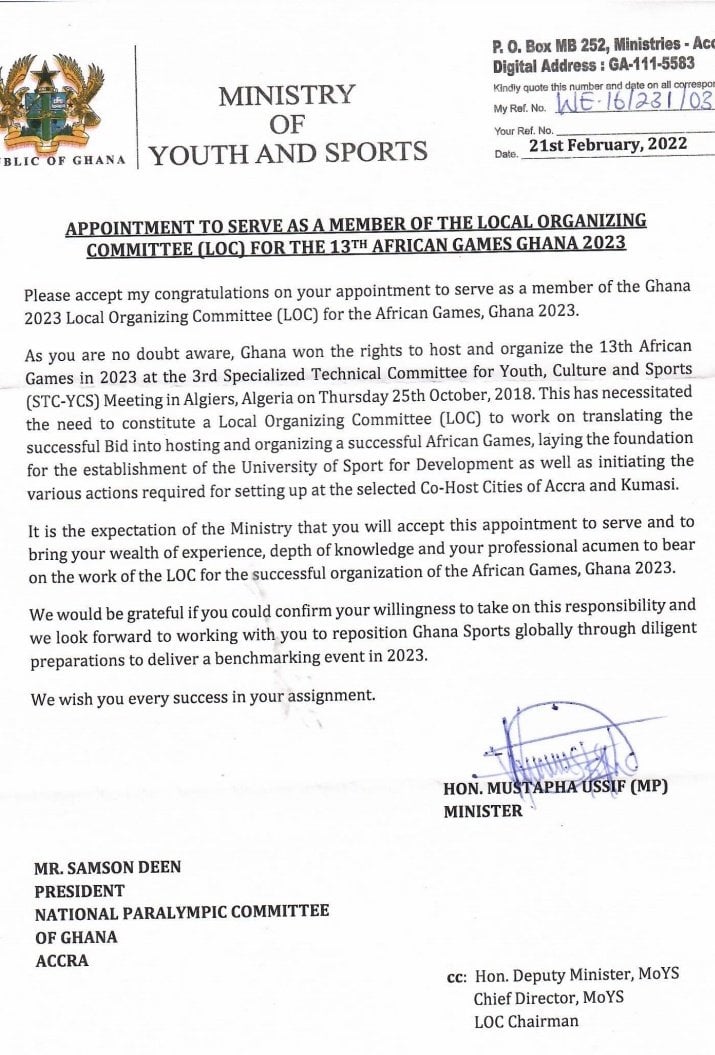 Meanwhile, the Local Organising Committee has announced the various sporting disciplines to participate in the August 2023 event.
This occurred after Heads of federations were required to justify why their disciplines should be included in the Pan-African Games.
Below is the list
1. ATHLETICS
2. ARM WRESTLING
3. BADMINTON
4. BASKETBALL
5. BEACH VOLLEYBALL
6. BOXING
7. CHESS
8. CRICKET – Conditional
9. CYCLING
10. FENCING
11. FIELD HOCKEY
12. FOOTBALL
13. HANDBALL
14. JUDO
15. KARATE-DO
16. NETBALL
17. RUGBY
18. SQUASH
19. SWIMMING
20. TABLE TENNIS
21. TAEKWONDO
22. TENNIS
23. VOLLEYBALL
24. WEIGHTLIFTING
25. TEQBALL