Azumah Nelson will turn 60 years on July 19, 2018, but former President Rawlings has thrown a pre-birthday party for the boxing legend.
The event held Monday at Rawlings' Ridge residence also saw the former President find his voice to lead a 'Happy Birthday Song' for the three-time world boxing champion.
Azumah Nelson was at the residence of Ex-President with business Guru Kennedy Somuah Agyapong who is the CEO of Kenpong Group of Companies.
Azumah Nelson paid tribute to the former President on the contributions he made in his boxing days.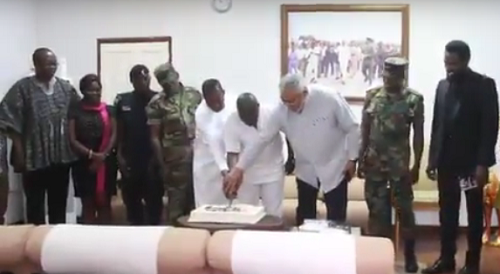 Read also:I made millions of dollars from boxing - Azumah Nelson
Azumah Nelson held the Super Featherweight Division for over a ten years during his boxing days and is in the world boxing hall of fame.
{youtube}
}