The co-founders of photo-sharing giant Instagram, Kevin Systrom and Mike Krieger, are both leaving the firm.
Mr Systrom, chief executive, said they were departing to "explore our curiosity and creativity again".

Instagram was purchased by Facebook in 2012 for $1bn (£760m) in cash and stock and has more than one billion users.

There had been reports of tension between the pair and Facebook, and the departures add to what has been a troubling year for the parent company.
Mr Systrom, 34, the CEO, and Mr Krieger, 32, the chief technical officer, started the image sharing site in 2010, and continued to run the service after it was acquired by Facebook.
What have the pair said?

Not a great deal. They reportedly only told the Facebook leadership on Monday so the departure appears pretty sudden.

In a blog post, Mr Systrom said: "We're now ready for our next chapter.

"Building new things requires that we step back, understand what inspires us and match that with what the world needs; that's what we plan to do."

There was no animosity in the blog post. Mr Systrom said the pair both remained "excited for the future of Instagram and Facebook".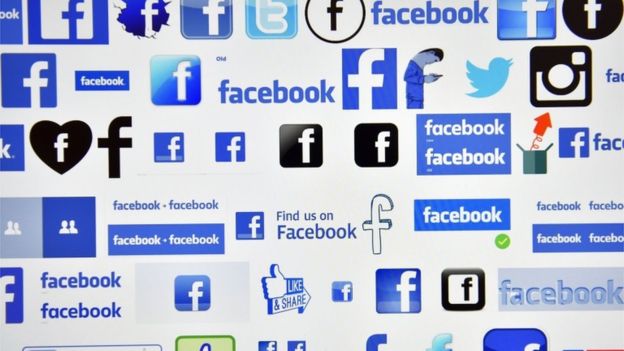 How has Facebook responded?

CEO Mark Zuckerberg said in a statement that Instagram reflected the founders' "combined creative talents".

"I've learned a lot working with them for the past six years and have really enjoyed it," he said. "I'm looking forward to seeing what they build next."

So what's behind the departures?

There have been reports of tension with Facebook's leadership. Instagram's popularity has soared in a period where use of the core Facebook product has stagnated.

This has put increased pressure on Facebook to squeeze more and more money from its users by adding new features some felt went against the Instagram app's original focus on simplicity.
The latest Instagram product, IGTV, which allows posting of longer videos, in part to compete with YouTube, has not had an auspicious start. It was criticised this month after sexually suggestive videos of children were recommended to its users.

Facebook has also been under intense pressure this year over the issues of safeguarding customer data and the misuse of its platforms by those wishing to spread fake news, including for political ends. In March, in the week Mr Zuckerberg apologised for the handling of a historic data breach, Facebook ended $58bn (£44bn) lower in value.

This, along with increased pressure from competitor platforms, appears to have led Mr Zuckerberg and his core executives to exert more control.

It ran counter to the business model the pair had become used to. Mr Systrom had earlier praised the "tremendous freedom" Mr Zuckerberg had allowed since the takeover.

So what will become of Instagram now?

Analysis by Dave Lee, BBC North America technology reporter

The firm was quite deliberately treated like a separate company owned by Facebook, rather than merely a department or division, because it was Instagram's culture that made it such a valuable acquisition.

Kevin Systrom and Mike Krieger were responsible for that culture - the entire feel of an app that was in many respects the anti-Facebook. It lacked the clutter and noise that had made Facebook bloated in many people's eyes.

But slowly, in recent years, the Instagram app started putting on that weight. Algorithmic ordering of the timeline... and ads, so many ads. If being mocked for brazenly stealing ideas from Snapchat wasn't grating enough for Mr Systrom and Mr Krieger, the pressure to make Instagram more like Facebook has apparently pushed them to breaking point.

One of the names being touted as the next boss of Instagram is Adam Mosseri. He's currently head of product, and has a CV that some of Instagram's loyal users might find ominous - he was formerly in charge of Facebook's Newsfeed.
They are not the first to jump ship

Indeed not. In fact it echoes what happened with WhatsApp.

Its chief executive and co-founder Jan Koum said in April he would quit the popular messaging service he co-founded in 2009 and sold to Facebook in 2014.

Oddly, Mr Koum's departure statement is also a direct echo of Mr Systrom's.

Analysts of that move also spoke of clashes with Facebook.

Mr Koum's departure sparked an executive reshuffle that saw the tightening of Mr Zuckerberg's control over operations.
The rise of Instagram

Mr Systrom and Mr Krieger met while studying at Stanford University.

The two were inspired to create the Instagram app - originally launched just for iPhones in 2010 - by old Polaroid pictures.
nstagram had around 30 million users in 2012, the year it was purchased by Facebook for what appeared to be an eye-watering $1bn.
It was also ad-free. That changed. But so did the number of users - now more than a billion.

The Forbes billionaires list estimates Kevin Systrom's net worth at $1.4bn. Mike Krieger's net worth is less. There are no definitive figures, ranging from $100m to $500m.

What has the social media chatter been?

One Twitter post highlighted the use of the word "again" in Mr Systrom's "explore our curiosity and creativity again". "Was it a slight dig from Systrom with the 'again'? You be the judge (I judge yea)," wrote Kara Swisher.

NBC media reporter Dylan Byers wrote that the Instagram pair had saved Mark Zuckerberg.
Source: bbc