Onika Tanya Maraj, known professionally as Nicki Minaj, has announced winners of her schorlaship sceheme. She promised to either pay their tuition fees or grant them student loans to enable them study at the university. 
It all started when Minaj started tweeting about a contest to join her at the upcoming Billboard Music Awards on May 21. But one of her fans suggested the rapper to pay for their college fees instead, and she happily, 'agreed'.
Nicki Minaj, on May 6 took to her Twitter page as agree to start the contest:
Show me straight A's that I can verify w/ur school and I'll pay it. Who wants to join THAT contest?!?!🤷🏽‍♀️ Dead serious. Shld I set it up? https://t.co/czH715u64a

— Chun-Li (@NICKIMINAJ) May 7, 2017
 Some hard-core Nicki Minaj fans can now say their favorite rapper is paying for them to go to college.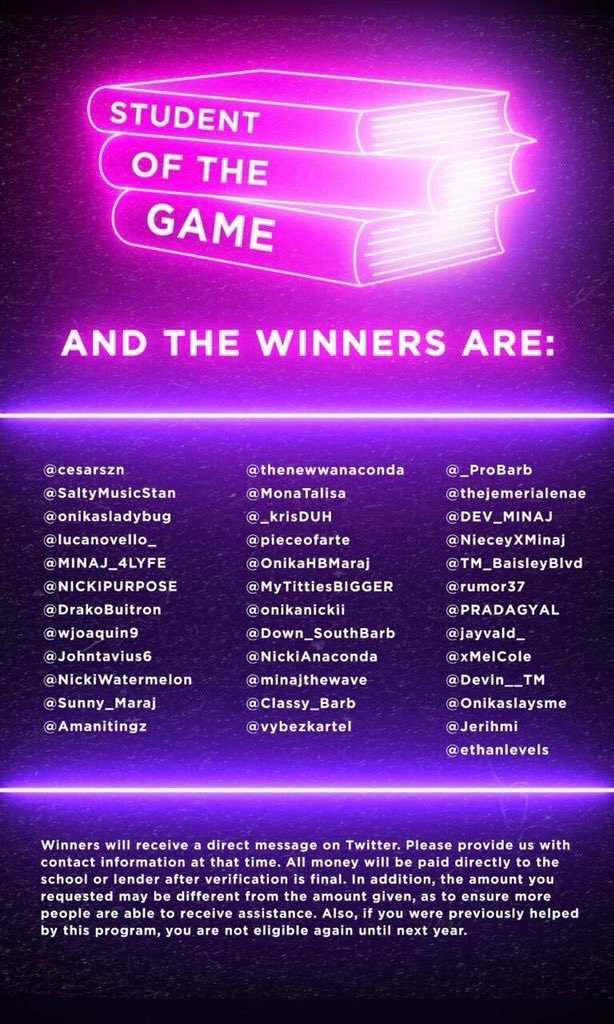 The "Chun-Li" artist and entrepreneur awarded 37 of her biggest devotees her "Student of the Game" scholarship on Friday, pledging to pay off either their college tuition or student loans.
Minaj's charitable efforts began in May 2017, when she posted a few students' names with a total of their loans, school expenses and summer classes she spontaneously paid off via her Instagram. She announced in the caption she was launching her "official charity for Student Loans/Tuition Payments VERY SOON".
She then started her "Student of the Game" scholarship which informed its first round of winners last month and finalized the recipient pool Friday on Minaj's website. She informed her Twitter followers that winners were eligible to win the scholarship multiple times, but not in consecutive years.
A handful of the winners took to social media to share their excitement over the news and their love for Minaj. See the tweets below:
so blessed and grateful, I love you so much nicki. thank you for EVERYTHING and helping me w/ my education 💕 I love you @NICKIMINAJ #StudentOfTheGame pic.twitter.com/lTIaJzslXM

— Cesar (@cesarszn) June 29, 2018
The fact that I have the chance to be on this list makes me so happy and grateful❣️ This is just another way @NICKIMINAJ has shaped my life for the better ✨👏🏼♥️ pic.twitter.com/hi1vioEFDP

— T. M I N A J (@MINAJ_4LYFE) June 30, 2018
OMG,I fucking Won.Thank you @NICKIMINAJ for give me the opportunity of Keep my ass in School helping me to buy a Laptop
.I love you. YOU ARE AN ANGEL.
I will always love you. #StudentOfTheGame pic.twitter.com/1nltCMNJcV

— IG:Drako Buitron (@DrakoBuitron) June 30, 2018
Thank you so much Nicki 😭🙏 I cant even believe it 😭💖 i can finally take all my AP's @NICKIMINAJ #StudentOfTheGame pic.twitter.com/M98QYc4LcB

— Nicki's Watermelon (@NickiWatermelon) June 29, 2018
THANK YOU. So much. I can't believe this, you are the biggest blessing in my life thank you thank you thank you. @NICKIMINAJ 💖💖💖💖💖💖💖

— taylor. (@OnikaHBMaraj) June 30, 2018
Nicki is such a blessing pic.twitter.com/BkwzOSvM8p

— Brianna 💕🌸 (@Down_SouthBarb) June 30, 2018
billboard.com