Thousands of Lebanese, furious with their political leaders, are taking to the streets again, four days after a huge explosion left at least 154 dead.
Some protesters have clashed with police who fired tear gas.
Tuesday's blast at the port devastated parts of the city and has reignited deep-seated anger at what many see as an inept and corrupt political class.
READ ALSO: Video: Air India plane crashes with 191 people on board
The explosion was caused by a huge stock of ammonium nitrate that had been seized from a ship but never moved.
The government has promised to find those responsible.
But there is a huge level of mistrust in Lebanon, where an anti-government protest movement erupted last October, fuelled by an economic crisis and a collapsing currency.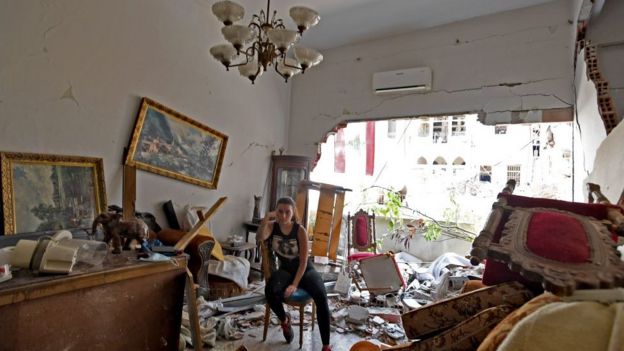 Two ministers who attempted to visit badly damaged neighbourhoods in recent days were chased out.
"After three days of cleaning, removing rubble and licking our wounds... it is time to let our anger explode and punish them," Fares Halabi, a 28-year-old activist, told the AFP news agency ahead of Saturday's protests.
A march will link one of the most devastated areas near the port to Martyrs' Square, the heart of the anti-government uprising that began last year.
Some protesters erected mock gallows in Martyrs' Square to hammer home their view of the country's political leaders
Apart from showing the city's anger, the march is also meant to remember victims of the explosion, which injured 5,000 and left some 300,000 homeless.
Lebanese President Michel Aoun has rejected calls for an international investigation into the explosion. He said local authorities would examine whether it was triggered by "external interference" such as a bomb.
Meanwhile global leaders are scheduled to take part in a virtual donor conference on Sunday organised by French President Emmanuel Macron.
Mr Macron was mobbed in the streets by welcoming crowds calling for outside intervention as he visited Beirut earlier this week in the aftermath of the explosion.
France, the former colonial power, has close economic ties with Lebanon, which defaulted on its sovereign debt in March but has been unable to agree a reform programme with international lenders to obtain a bailout.
US President Donald Trump is among world leaders set to attend the virtual donor summit.
Source: BBC