The Energy Minister has introduced a new local term to reflect the current administration's ongoing efforts to permanently fix perennial challenges in Ghana's power sector.
Matthew Opoku Prempeh wants Ghanaians to ditch the popular 'dumsor' – which was coined by the public to describe the persistent, irregular, and unpredictable electric power outages – for 'dumsiesie'.
'Dumsiesie', the Minister explained during a press briefing on Sunday, May 16, 2021, would describe the current intermittent power outages as part of a myriad of processes aimed at fixing the power sector challenges permanently.
Outlining a host of bold steps fashioned by the Nana Akufo-Addo-led administration to permanently fix the challenges, the Minister told journalists that rationalisation of Power Purchase Agreements (PPAs), for instance, has been done to save money and secure long-term financial sustainability in the power sector.
The Minister said at the press briefing dubbed "Delivering reliability and affordability within the power sector" that the country has since 2019 made savings $1.426 billion on the rationalisation of three PPAs.
He also said the government has approved and is implementing the "Energy Sector Recover Programme (ESRP) to bring about the long-term financial sustainability of the sector."
Others include a yearly savings of $100 million since 2019 after the relocation of the Karpower ship.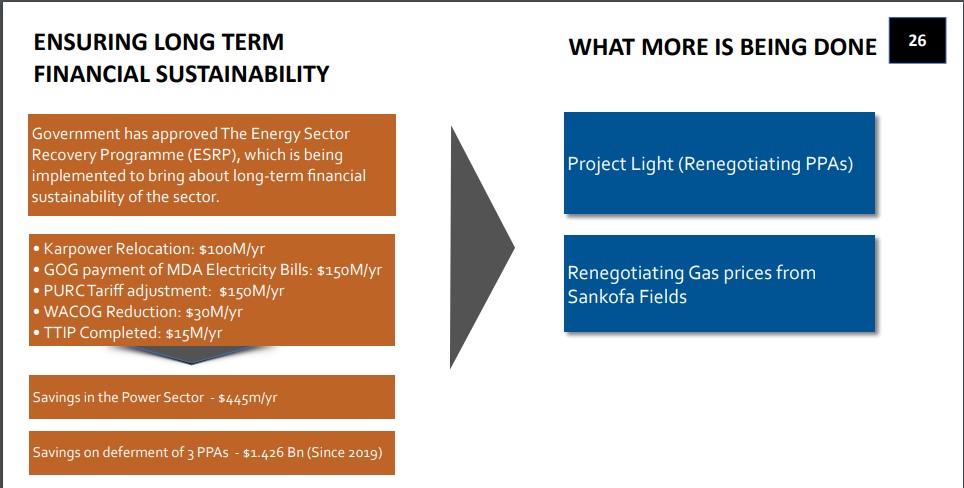 The Karpower barge was relocated from Tema to its original location in Sekondi Naval Base, in the Western Region to enable the 450-megawatt plant to use natural gas from the country's gas fields.
READ ALSO:Â Covid-19: Prez. Akufo-Addo to address the nation tonight
According to the Minister, a total yearly savings of $445 million has been made in the power sector after various initiatives to date.
"We are on track to fixing our power transmission issues for the short to medium term. This will bring an end to the current transmission induced outages," the assured.
Ghana's power sector faces a host of challenges such as inadequate power supply infrastructure that requires huge investment, over-reliance on hydro and gas, inadequate access to electricity, high cost of fuel for electricity generation, transmission and distribution losses, and inadequate regulatory capacity, enforcement, operational and management difficulties.
The height of the country's power sector challenges occurred at the beginning of 2015. This period was characterised by a national timetable that saw some parts of the country having electricity for 24 hours and 12 without it for months.
There are currently intermittent power outages in parts of the country, but the Minister said at the press conference on Sunday that they have been occasioned by an ongoing process to upgrade the current power infrastructure.