The Chief Justice, Ms Justice Sophia Akuffo, has sworn eight newly appointed Circuit Court judges into the office at a ceremony at the supreme court yesterday.
Ms Justice Akuffo also challenged judges to embrace technology for effective justice delivery.
According to the Chief Justice said the Judicial Service was gradually moving towards the full integration of information and communications technology (ICT) in all aspects of its operations and, therefore, there was the need for judges to be well-versed in ICT.
"This will bring speed and efficiency to your work. It is important that as we seek to serve our people more efficiently, we embrace with passion the tools of modernity, such as the Internet, computer systems and all other modern systems that enable us to harness technology to speed up what we do," she said.

The newly sworn-in circuit court judges include Ms Dorinda Smith-Arthur, Mr Alfred Kwabena Asiedu, Ms Veronique Abena Praba Manfort and Mr Charles Kwasi Acheampong.
The rest are Mr Sylvester Nii Okine Ablorh, Ms Joyce Boahen, Ms Rita Amonyiwah Edusah and Mr Anthony Aduku-Aidoo.
Justice Akuffo administered the Oath of Allegiance, the Judicial Oath and the Oath of Secrecy to the judges.
The Attorney-General and Minister of Justice, Ms Gloria Akuffo; the President of the Association of Magistrates and Judges, Ghana (AMJG), Mr Justice Senyo Dzamefe; the National President of the Ghana Bar Association (GBA), Mr Tony Forson Jnr, as well as some justices of the superior courts were dignitaries at the ceremony.
Justice Akuffo advised the judges to be good ambassadors of the Judiciary and work in a manner that would bring relief to people and also advance the course of the rule of law and justice.
"As societies become more complex, the demand for justice increases. Without a fair justice system, society will quickly descend into chaos.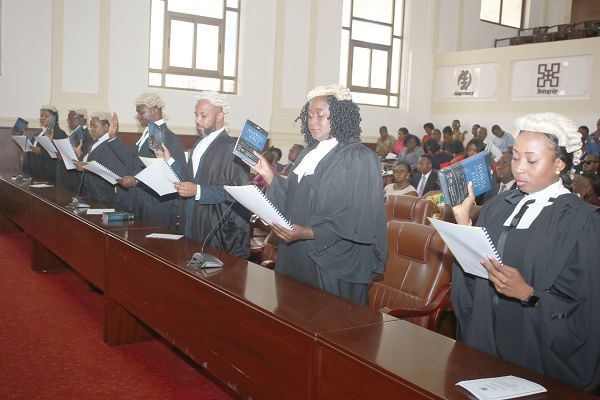 Ms Justice Sophia A.B Akuffo (left), the Chief Justice, swearing the new circuit court judges into office
Justice Sophia Akuffo said, ''If the law is not respected by all and administered fairly and equally to all, more people will be tempted to ignore institutional structures and seek redress through self-help, which often is less peaceful,".
READ ALSO: Citizen petitions Prez. Akufo-Addo to remove Chief Justice
Justice Dzamefe, who is also a justice of the Court of Appeal, told the judges to give judgements that could be easily understood by the parties.
"Sometimes after reading a judgement, even lawyers do not understand. So be very simple and use simple language. As much as possible, give reasons for your judgements to enable the litigant to know why he won or lost the case," he advised the judges.
For her part, Justice Gloria Akuffo advised the judges to approach their work with dignity, respect and seriousness.
"Remember that as you try cases, you will be on trial because you will be meeting different people from different backgrounds who will give verdicts on your work," she said.